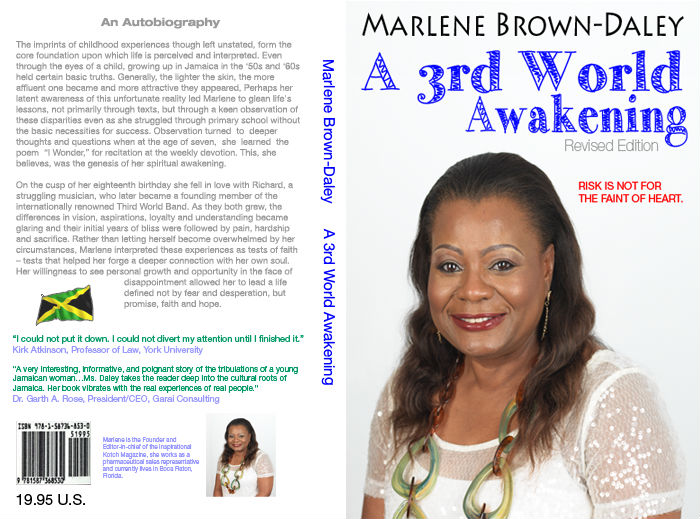 A SIZZLING READ !
All of life becomes glaring upon reflection, not during the many years, unfortunately, that women suffer in silence. It seems that we are the burden bearers of life. When we are not taking psychological abuse from the men we love and who claim to love us, some of us are taking physical abuse. Even while they lie and cheat (and we in our denial believe), we are expected to bear children between periods and remain open to their many grouses on life's challenges. We are expected to wait on them hands and feet, to see to the preparation and wonderful presentation of their meals, do their laundry, massage stressed tendons and muscles, attend PTAs, work a full time job and be ready come bedtime to service or be serviced.
We tend to lose ourselves in the mix. We are forced to hold off on exercise, our meditation to maintain balance and any undertaking that would be in furtherance of our personal life ambition and growth.
Marlene Daley who was married to a member of the famed Third World Band was one such woman. Coming from a Jamaican culture that caters largely to men, it was natural for her to pull all stops to see to the absolute comfort of her then husband, Richard Daley, bass player and founding member of Third World Band. Her denial of the truth about her ex-husband's extra marital alliances drove her to the brink of insanity as she straddled life between that psychological set up and nearly becoming a recluse out of fear that her friends had become devious and were fabricating stories to break up her marriage.
Her fascinating tell-all book teems with unrelenting stumbling blocks that reads more like a life disengaged from reality. Marlene undoubtedly has the gift of pulling in the reader to walk the walk on a brutal course of truth, which left her only one option – to find God and thereby a deeper sense of spirituality and meaning of a life fraught with challenges, as she travailed those dark corridors of life. Her mantra, "To whom much is given, much is required" was constantly uttered aloud.
Totally engaging from beginning to end, get ready for astounding snippets of Jamaican culture that she relates unreservedly along with stunning truths of how the same marriage that allowed a breadth and scope of life that few can image, enhanced a level of wisdom and maturity that enabled the strength that it took to walk away from it all somewhat scathed yet empowered.

– Shanique Bolton
An Autobiography
The imprints of childhood experiences though left unstated, form the core foundation upon which life is perceived and interpreted. Even through the eyes of a child, growing up in Jamaica through the '50s and '60s held certain basic truths. Generally, the lighter the skin, the more affluent one became and the more attractive they appeared. Perhaps her latent awareness of this unfortunate reality led Marlene to glean life's lessons, not primarily through texts, but through a keen observation of these disparities even as she struggled through primary school without the basic necessities for success. Observation turned to deeper thoughts and questions when at the age of seven she learnt the poem "I Wonder," for recitation at the weekly devotion. This, she believes, was the genesis of her spiritual awakening.
On the cusp of her eighteenth birthday she fell in love with Richard, a struggling musician, who later became a founding member of the internationally renowned Third World Band. As they both grew, the differences in vision, aspiration, loyalty and understanding became glaring and their initial years of bliss were followed by pain, hardship and sacrifice. Rather than letting herself become overwhelmed by her circumstances, Marlene interpreted these experiences as tests of faith – tests that helped her forge a deeper connection with her own soul. Her willingness to see personal growth and opportunity in the face of disappointment allowed her to lead a life defined not by fear and desperation, but promise, faith and hope.