About Kotch
CREATORS FROM THE CARIBBEAN
Marlene Daley – At a Glance
Whether travelling throughout the United States to find antique collectibles and vintage clothes for her boutique in Jamaica, carving out a successful career in real estate, or in her current role as a pharmaceutical sales representative, Marlene Daley, who is the founder and publisher of the online publication Kotch Magazine, speaker of a spiritual nature, published author of the pocket book "Spiritual Prose, Quotes & Notes" (available only on Kindle), and author of her autobiography "A 3rd World Awakening," has relied on an inner awareness to guide her journey.
In retrospect, Marlene, who is now being referred to as a Cultural Change Agent, sees her humble beginnings in Jamaica and the life she forged for herself and her four children after a difficult divorce, as preparation for coming into "her contract." As founder and editor-in-chief for Kotch Magazine, she is passionate about bringing editorials that will cushion the stark reality of the dawning of a new day in the life of others. But most importantly, she embraces the truth in the adage, "there is no birth without death," and her own belief that leads her to think that, more often than not, our pains are signals of the coming of greater things.
Kotch Magazine is a rapidly growing online publication which celebrates the highest achievements of Caribbean people around the world. In addition, it provides a panoramic view of all other cultures, each with its offering of an indigenous or unique value to the common good.
Marlene's autobiography "A 3rd World Awakening," is a culmination of all that she stands for and more. In it, she places great emphasis on the awareness of her spirituality from a very young age, eventually realizing the essence of who or what she is, and she hopes that her life experiences will move its readers beyond just inspiration, to a jolting deeper awareness of self and heightened purpose. She has established this online presence with a social platform called "The Quiet Room," to allow its members pause to become more attuned to the essence of who they are, to privately journal those regularly occurring miracles that everyone experience from time to time, but are often too busy to acknowledge and to create a complete wish board of sorts with pictures.
Marlene intends to provide with "A 3rd World Awakening" and through the forum that Kotch presents, an opportunity for continuous journaling, sharing (if so inclined) and hopefully learning from each other's collective experiences.
"Encountering and overcoming challenges are integral parts of the human experience which are made more tenable with spiritual awareness," she expressed. Through believing strongly that we sometimes desperately need a word of encouragement or some form of inspiration that can help us to remain centered as we continue on our course without broken faith, Marlene offers Kotch as your site to fill those spiritual needs and for strengthening.
---
KOTCH is an on-line magazine dedicated to highlighting culture, arts, fashion, environment, non-partisan politics and the high accomplishments of people of the Caribbean at home and abroad.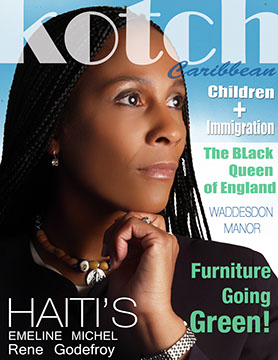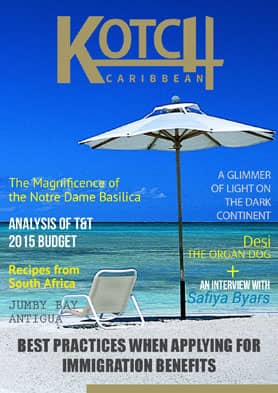 The objective of the magazine is to celebrate transformation, progress and achievements that are authored by our Caribbean neighbors. The magazine aims to inspire Caribbean nationals, particularly young readers, by architecting iconographic portraits of nationals both historical and contemporary, and incorporate these portraits as part of popular culture. This will be a core theme of the magazine but we will also have a cultural exchange segment that allows for our exposure to the most exotic places on earth.