Fantastic Vacation Destinations
Hamilton Princess Hotel & Beach Club, Hamilton – Bermuda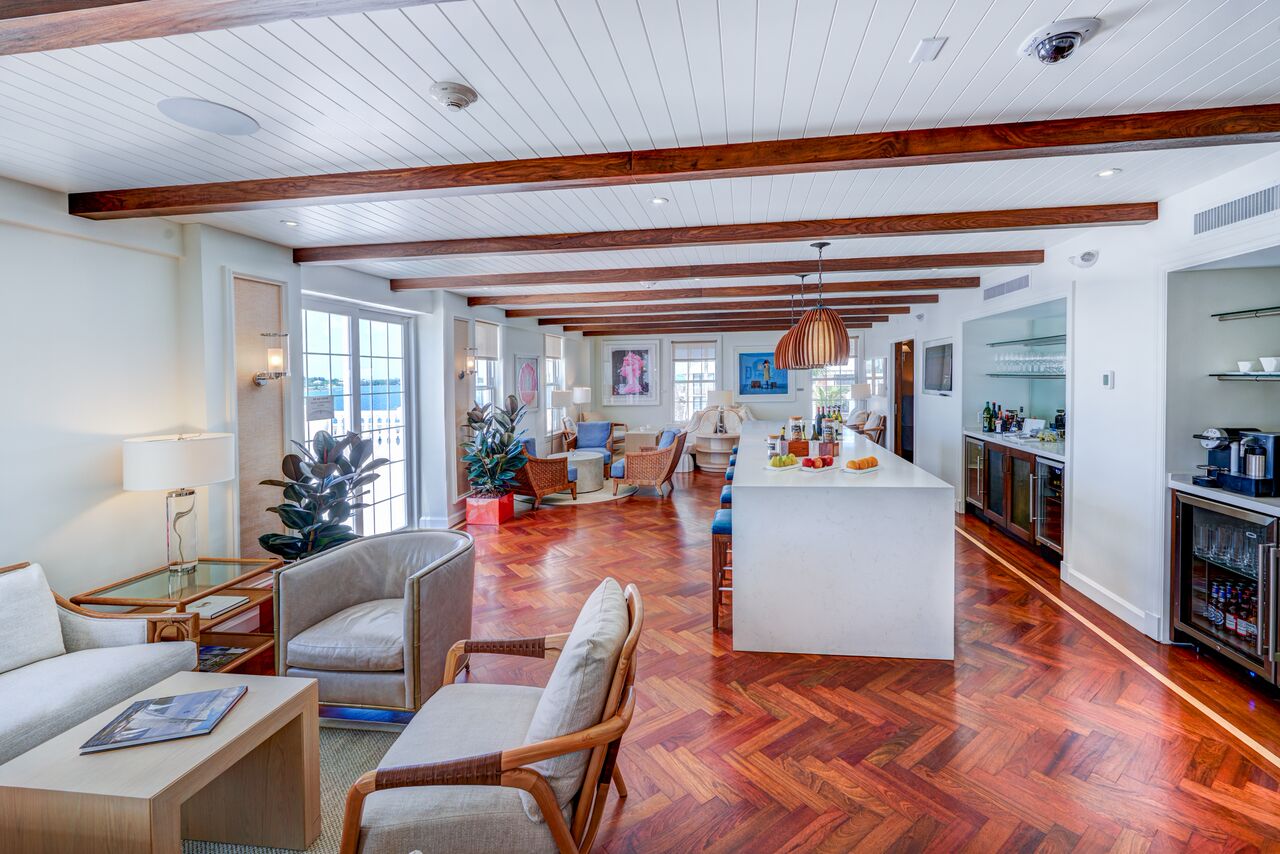 "The Pink Palace" is the name synonymous with the five star Hamilton Princess Hotel in Bermuda since its inception in 1885, and aptly so, since not only is it an imposing pink structure but so too is the very sand on the beach, within close proximity.
During World War II the hotel was used for high level intelligence meetings and over the many years they have amassed an art collection of stupendous proportions. Art enthusiasts and aficionados can feast their eyes on the collection which has among them, renderings of Shepard Fairey's "Station to Station," Robert Indiana's "Flag (Moratorium)," Keith Haring's "Statue of Liberty," pieces by Magritte and Matisse and Andy Warhol's 1985 collection of "Reigning Queens," among a host of others.
As part of the hotel's preparation for hosting "The 2017 America's Cup" 35th staging of the yacht race, the Hamilton Princess spent $100 Million in refurbishing, which included the addition of the new infinity pool. It was the first time in over 160 years that Bermuda played host to this prestigious event. The Marina, as a result, has now joined ranks with the best in the world.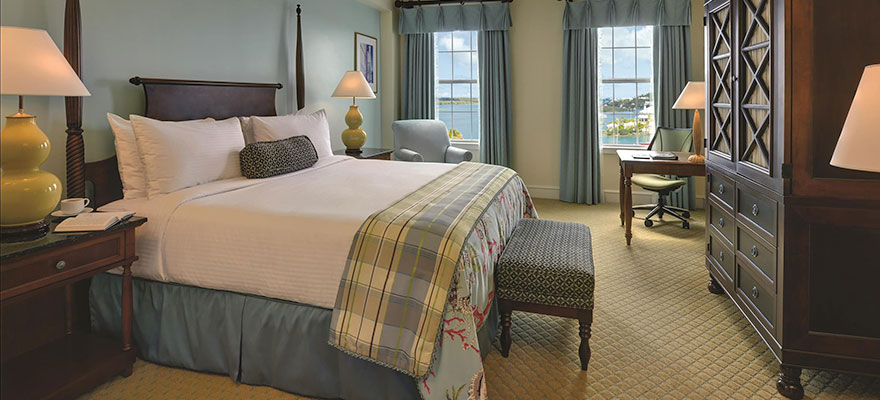 The new Crown & Anchor pub restaurant which was also added is where celebrity chef Marcus Samuellson continues to whip up delectable meals, served in a breath taking ambience of sublime art.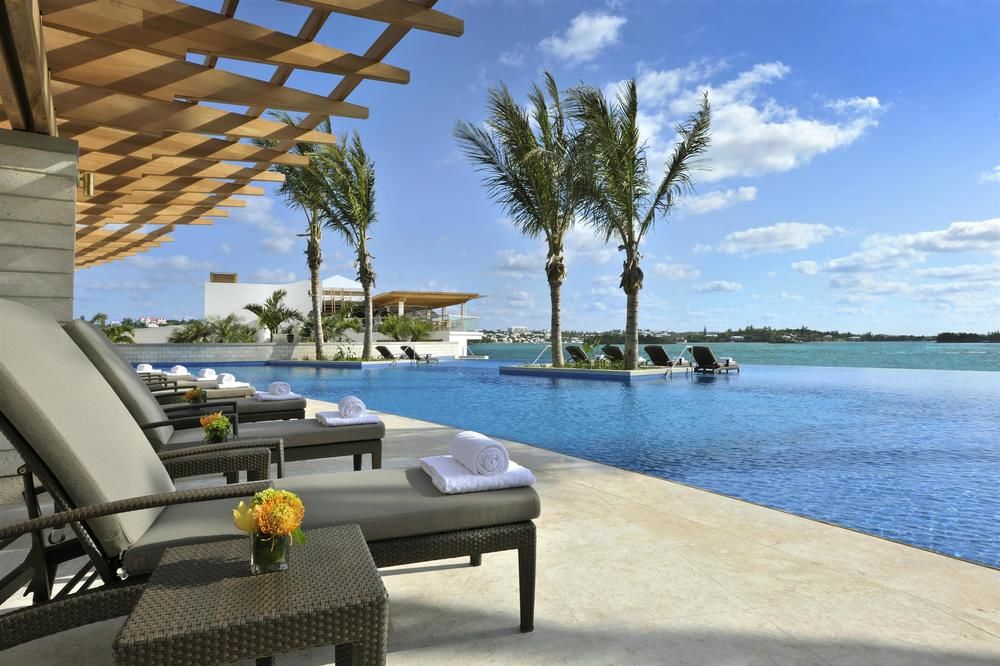 From "1609" casual dining restaurant there is a spectacular view of the luxury boating and water sports facility at "Princess Marina" and Hamilton Harbor. The name "1609" is of great significance to Bermudians as it symbolizes the year that the "Sea Venture" was shipwrecked on her shore. This incident heralded the island's colonization.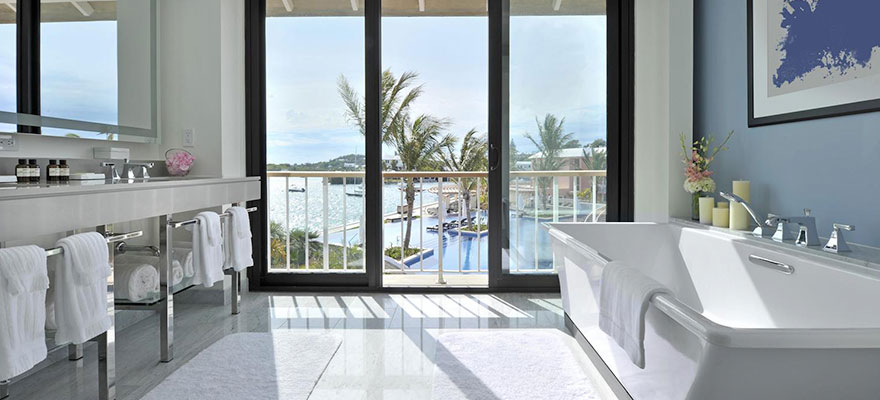 But it doesn't stop there. The island also has 3 lagoons which are accessible year round and with 60-85 degrees temperature year round, there should be no holds barred in exploring a bit of the island as long as time permits.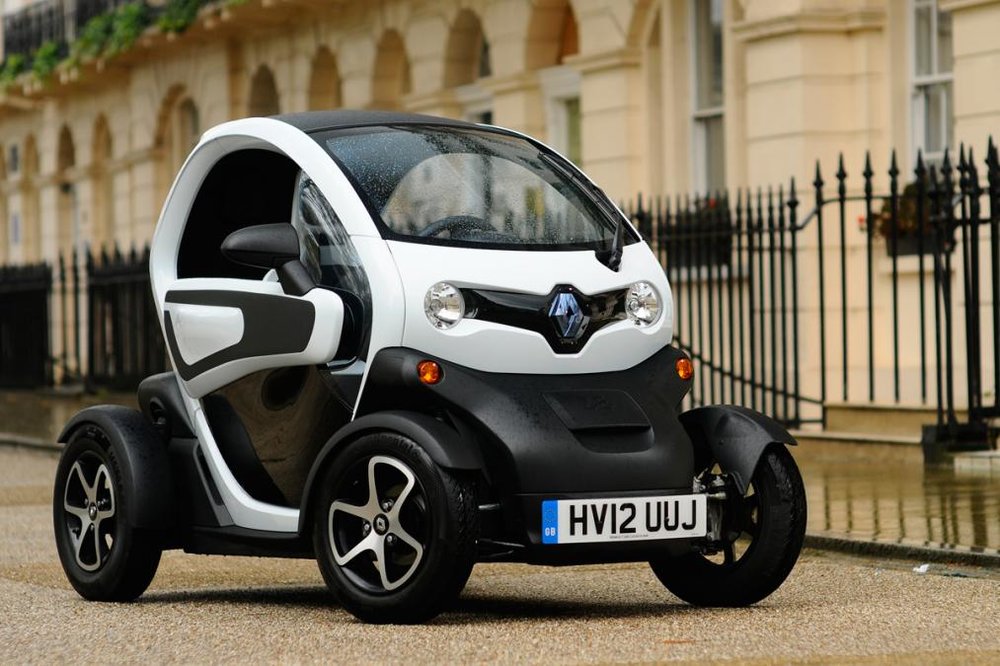 There is a growing trend of providing personalized shuttle service for guests among five star resorts and Hamilton Princess & Beach Club is the first property in Bermuda to now offer the two-seat Renault Twizy vehicles for guests. This was introduced this summer. These electric buggies which were designed by Renault's Formula One racing team are available on a first-come-first-serve basis. As visitors to Bermuda aren't allowed to rent cars on the island and residents are allowed only one car per household, the Twizy provides the perfect thrill for sightseeing.
Sugar Beach, A Viceroy Resort – St. Lucia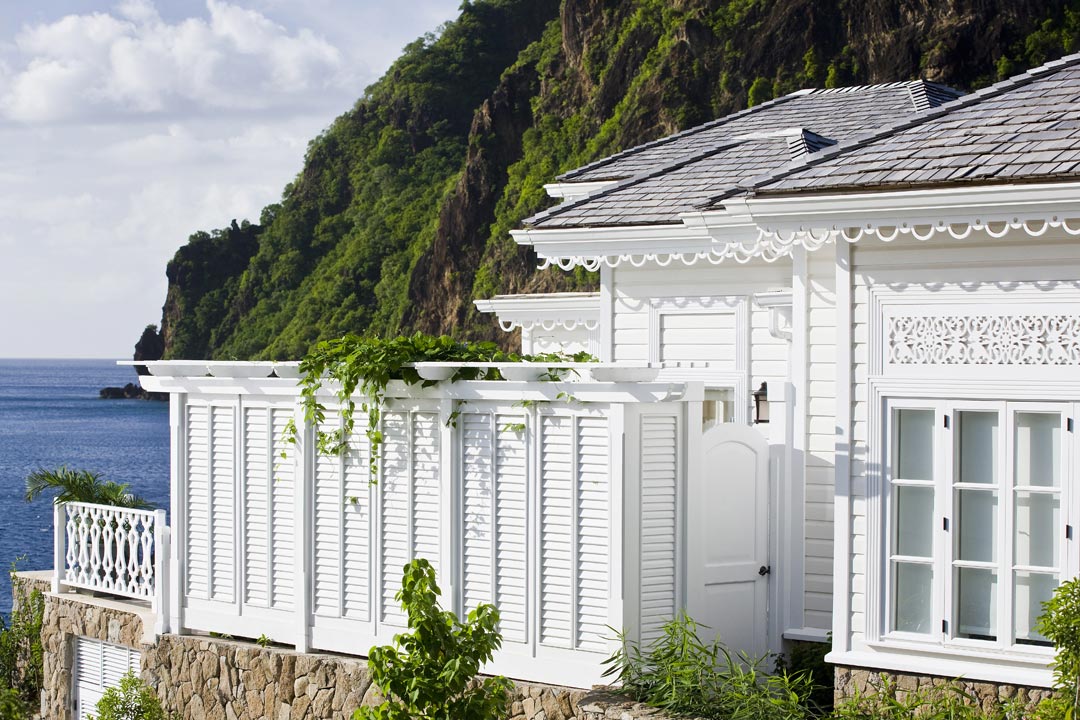 Sugar Beach, A Viceroy Resort in St. Lucia, stands apart from the get go for being built on a 18th Century sugar plantation, between two volcanic conical mountains known as the Pitons, which rise in excess of 2,400 feet out of the sea and contains boiling sulphur springs in the center. But if this, which practically smacks of "heaven on earth" is not enough to whet your appetite, just think that the resort is also built within the ambit of a 100 acre rainforest that is designated by UNESCO, as a World Heritage Site.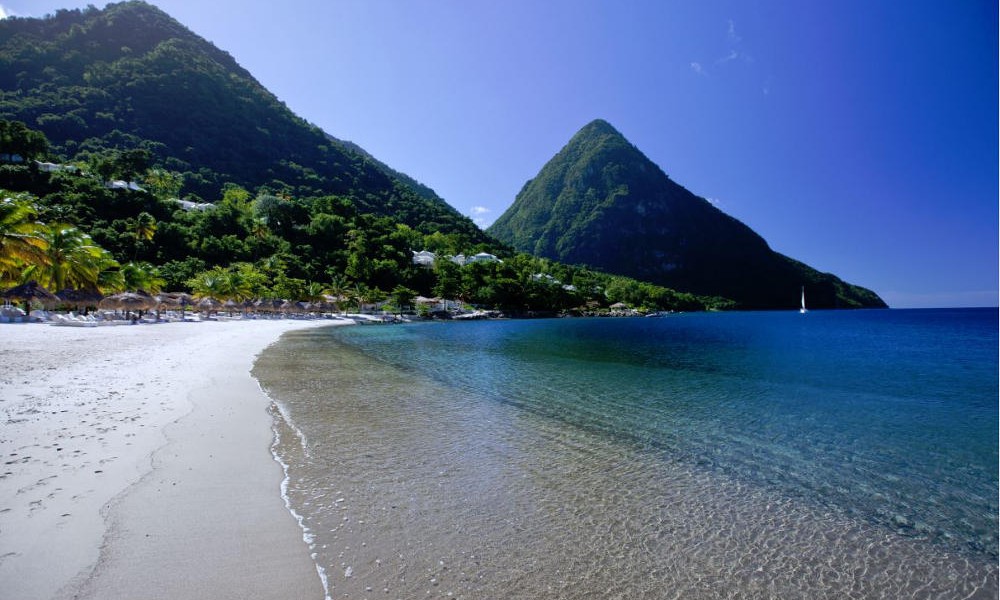 The 27 mile long island has indigenous plant and wildlife, some of which are listed endangered species. The vast majority of the inhabitants are Blacks who speak a French patois known as Kwéyo`l, which is virtually identical to that spoken on Dominica and the French islands of Martinique and Guadeloupe. Two sons of the soil have been recipients of The Nobel Prize. In 1992 Derek Walcott won it for literature and in 1979 Sir Arthur Lewis won it for economics.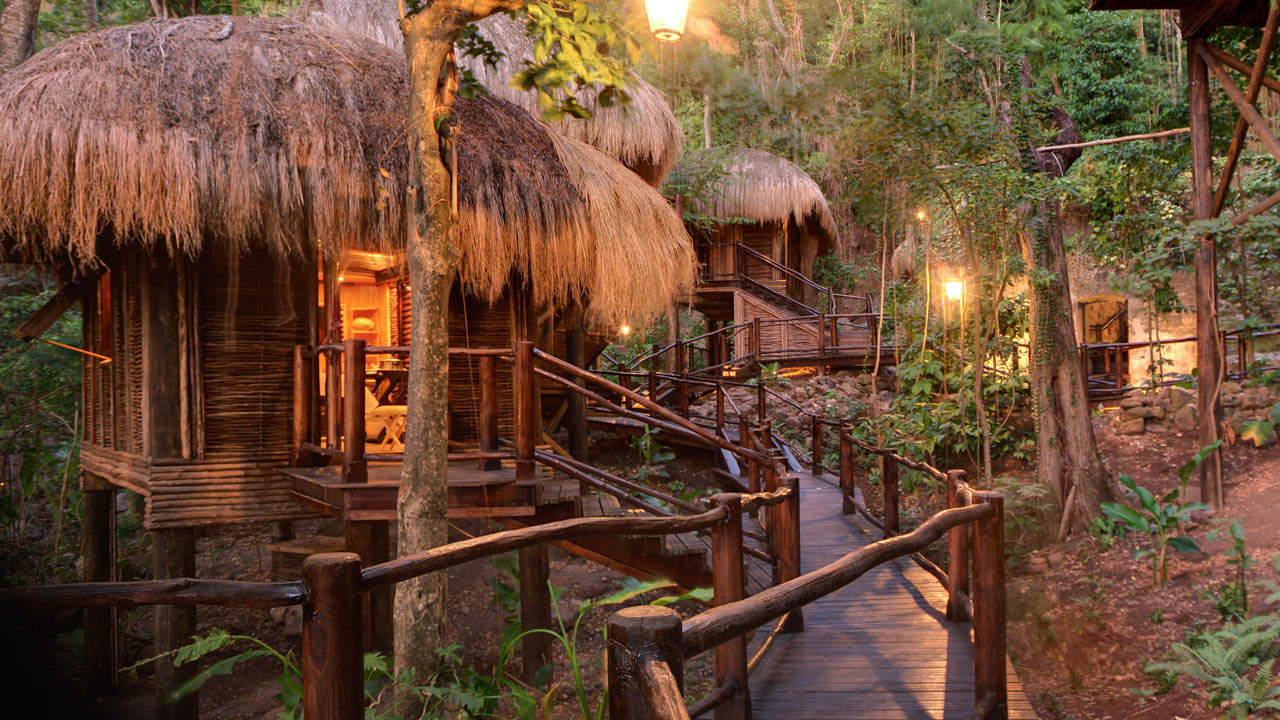 The environmentally friendly Viceroy conglomerate is also a forerunner in sustainability, through initiatives that save energy and water along with a comprehensive recycling program. Sugar Beach, A Viceroy Resort – St. Lucia, also has a community outreach program that strategically beckons the input and involvement of their guests… that is second to none.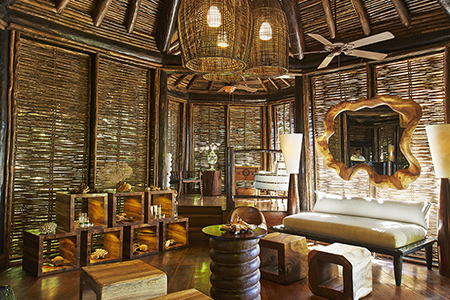 But lest the "heartical" underbelly of operations at these luxury resorts lead us on a tangent, be reminded that we are speaking of the grand experience that awaits the avant-garde tourist at Sugar Beach, St. Lucia's Viceroy hotel, spa and villas, which has so far been accredited among:
The Times, Sunday Times and Sunday Times Travel Magazine Travel Awards 2016 Best Long Haul Hotel in the World
2016 U.S. News & World Report rankings – Best Hotels in the Caribbean
2017 U.S. News & World Report Best Hotels in the Caribbean
Conde Nast Traveller (UK) Readers' Choice Travel Awards 2016, #98 in the world and #9 in the Caribbean, among a slew of others.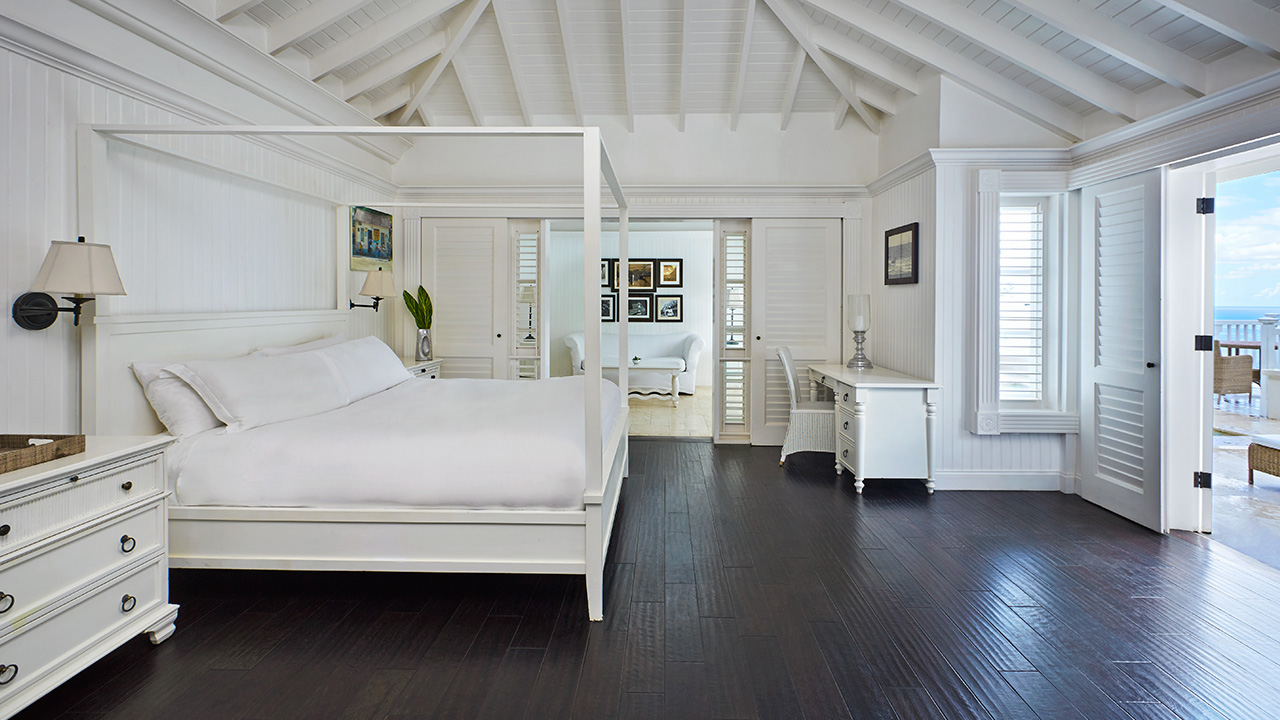 The Conde Nast Traveller's "Readers Choice Awards" factors among the most prestigious awards on the planet and it's no mean feat to have scored among the top 100 in the world.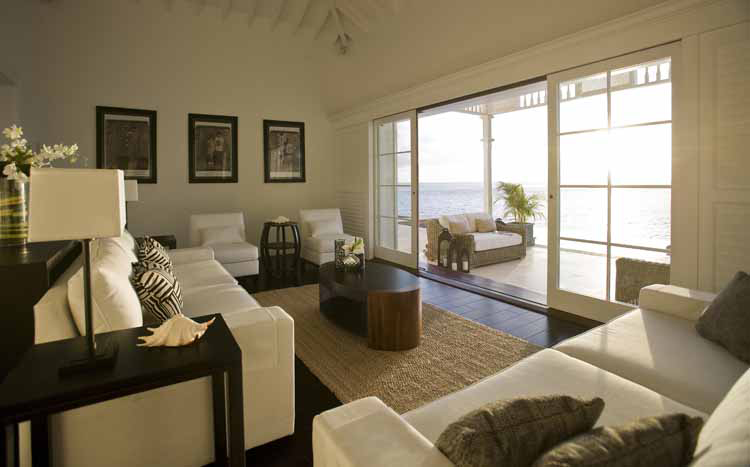 A small portion of the hotel's average $460 a night stay goes toward reef conservation. The hotel also offers the opportunity to do guided night snorkeling with under water flashlights. What wonders, one might imagine, could surface through such an experience, in addition to being able to see the phosphorescent planktons.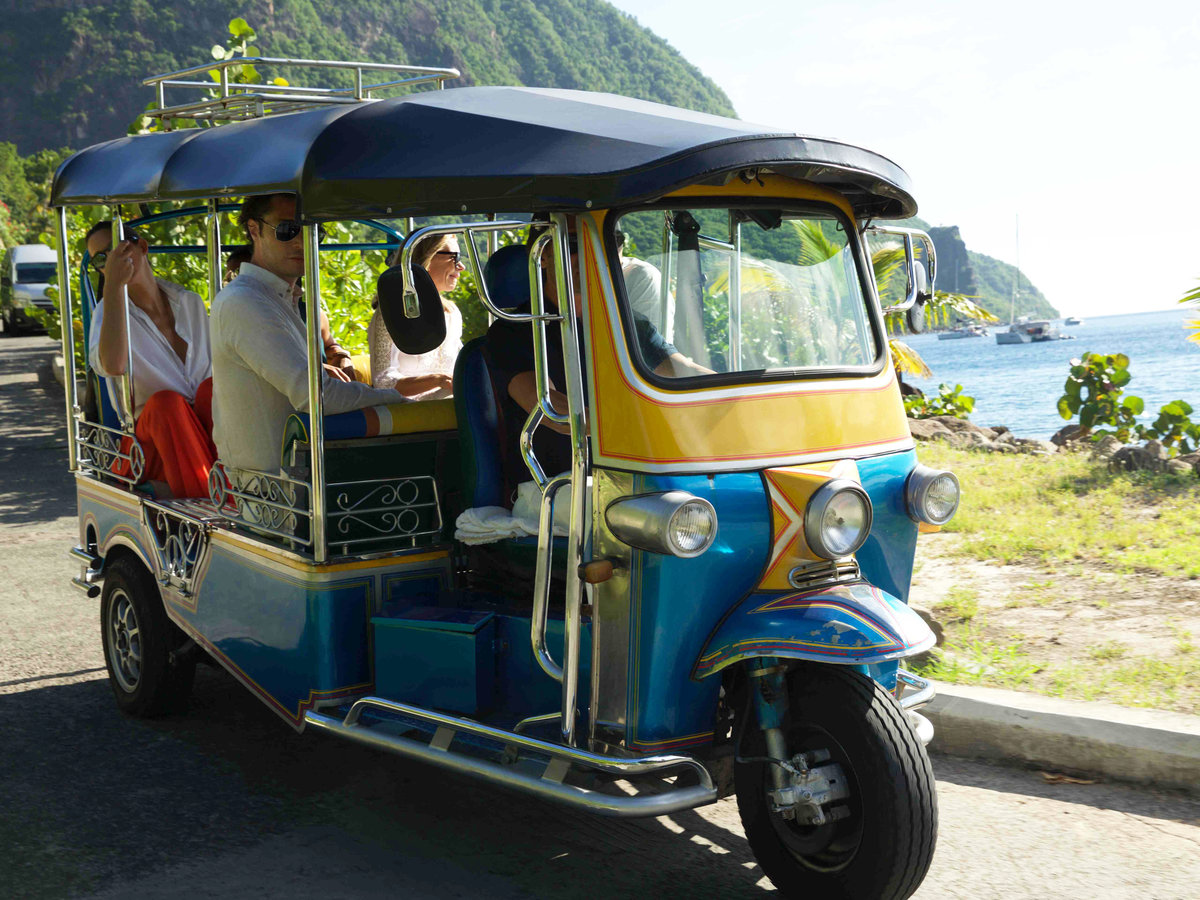 Brightly-colored Tuk Tuks are the new addition. This is the preferred mode of transport at Sugar Beach. They buzz up and down the hills between the Pitons shuttling guests from the beach to the spa to their rooms, or just on a scenic tour for perfectly framed photo ops.
CHEVAL BLANC ST BARTH ISLE DE FRANCE, ST. BARTHS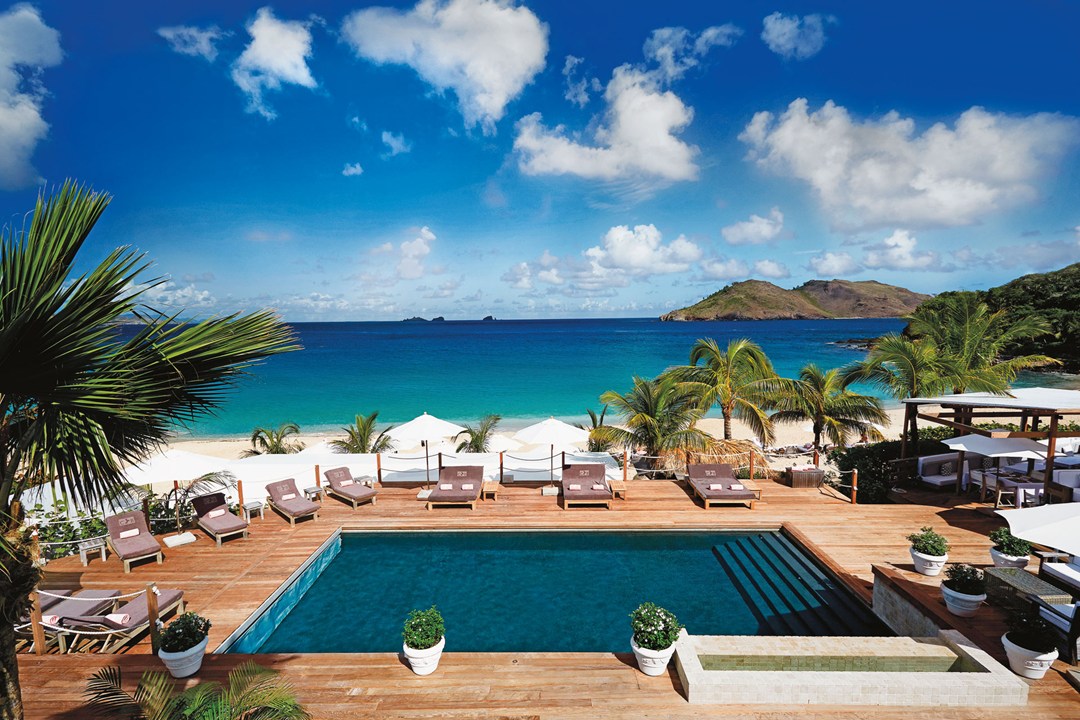 Bartoloméo has seen many changes since the "notorious" Christopher Columbus landed there in 1493 and named it after his brother, despite its occupation by Taino people. But notwithstanding its history and the statehood eventually conferred by France in 1946, it was David Rockerfeller who brought fame and recognition to St. Barthelemy, now fondly known as St. Barths, when he bought a property there in 1957. The 9 mile island located in the French Caribbean, has not looked back since it catapulted to a haven of sophistication and became a getaway for royalty and the world's most renowned affluent families, past and present.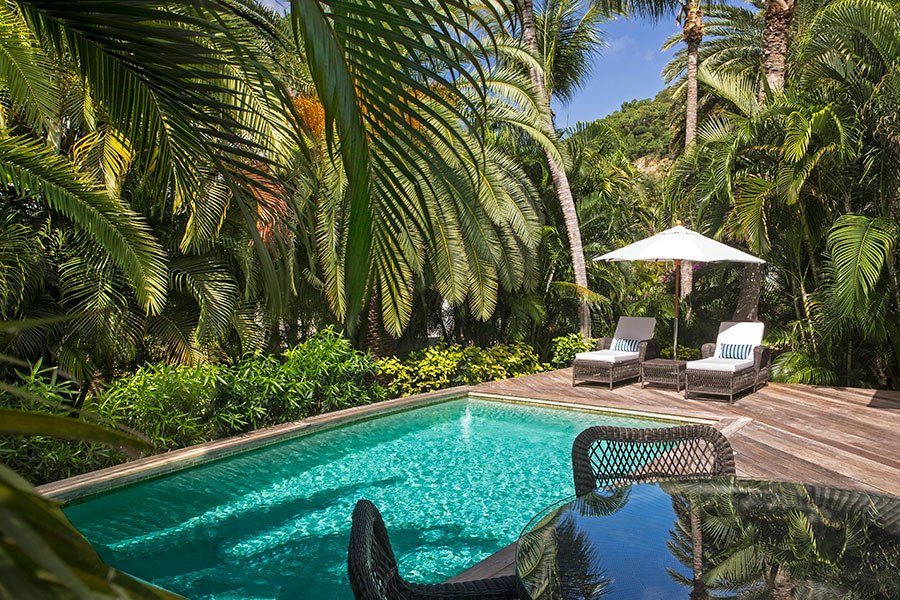 Some of the aristocrats owning and having owned property there are David and Jane Matthews (in-laws of the recently married Pippa Middleton), Billionaire Philip Falcone, British aristocrat Lord Glenconner, Aristotle Onassis and David Bowie, to name a few. There are around 80 houses on St. Barth that can run upwards of US$75,000 a week for rental and transportation is primarily by electric golf buggies. Most of the homes are floored by the world's most termite resistant wood "Greenheart," imported from South America and the official currency is the euro.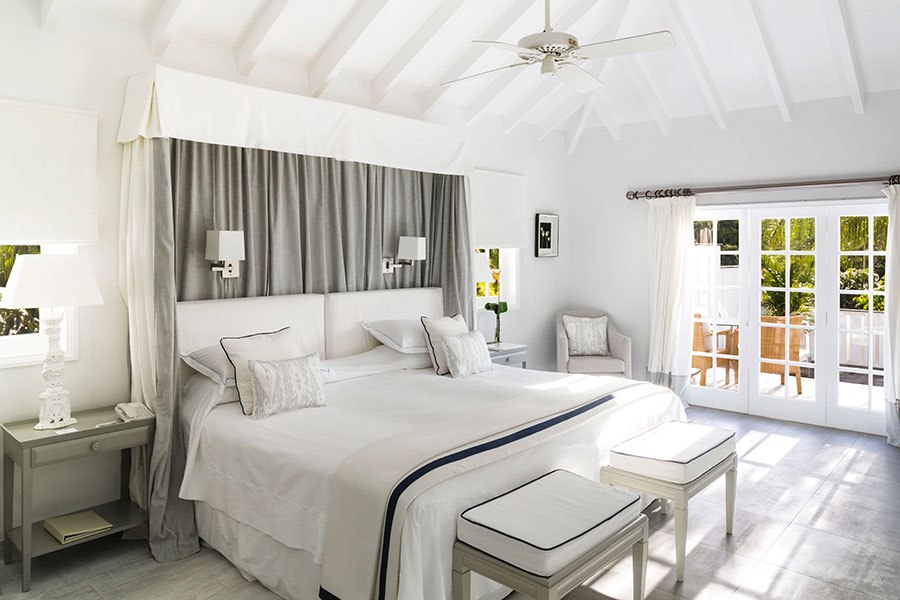 In 1991 Cheval Blanc St Barth Isle de France opened its doors to a fabulous alternative. Designer Bee Osborn of Britain spared nothing in upgrading the hotel's unique design and par excellence international allure during her 3 year renovation. With a Caribbean flavored theme, spacious rooms that are individually decorated with French vintage influence and bungalows of 4500 sq. ft., French yet subtly blended island culture and beautiful beaches, this has opened up the choices for the savvy tourists who are mindful of sampling the quaintness, diversified, and laid back way of life that a vacation such as this affords. These features along with the fab amenities lend a welcoming charm and warmth to their tourist offering.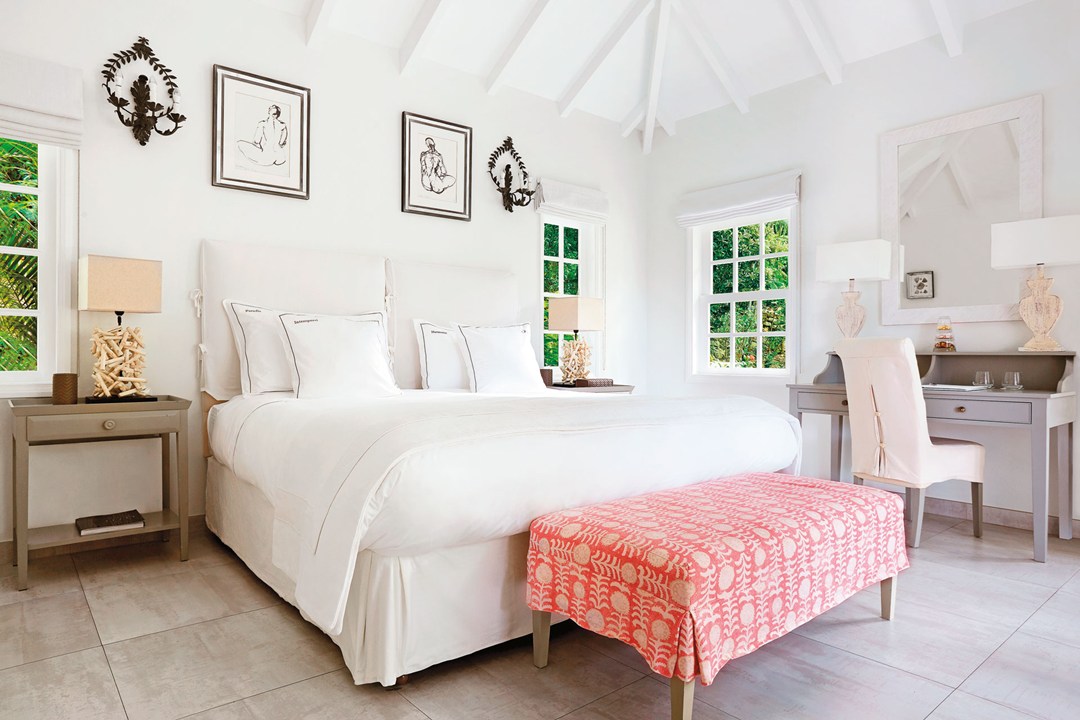 Go with the understanding that your stay will be almost as French as France with the hottest name brand designer boutiques to boot, and do expect to see topless beaches and experience discos that start jamming by noon. And while wandering around Gustavia, the main harbor, keep an eye out for the arrival of the super yachts with the who's who of fame and celebrity.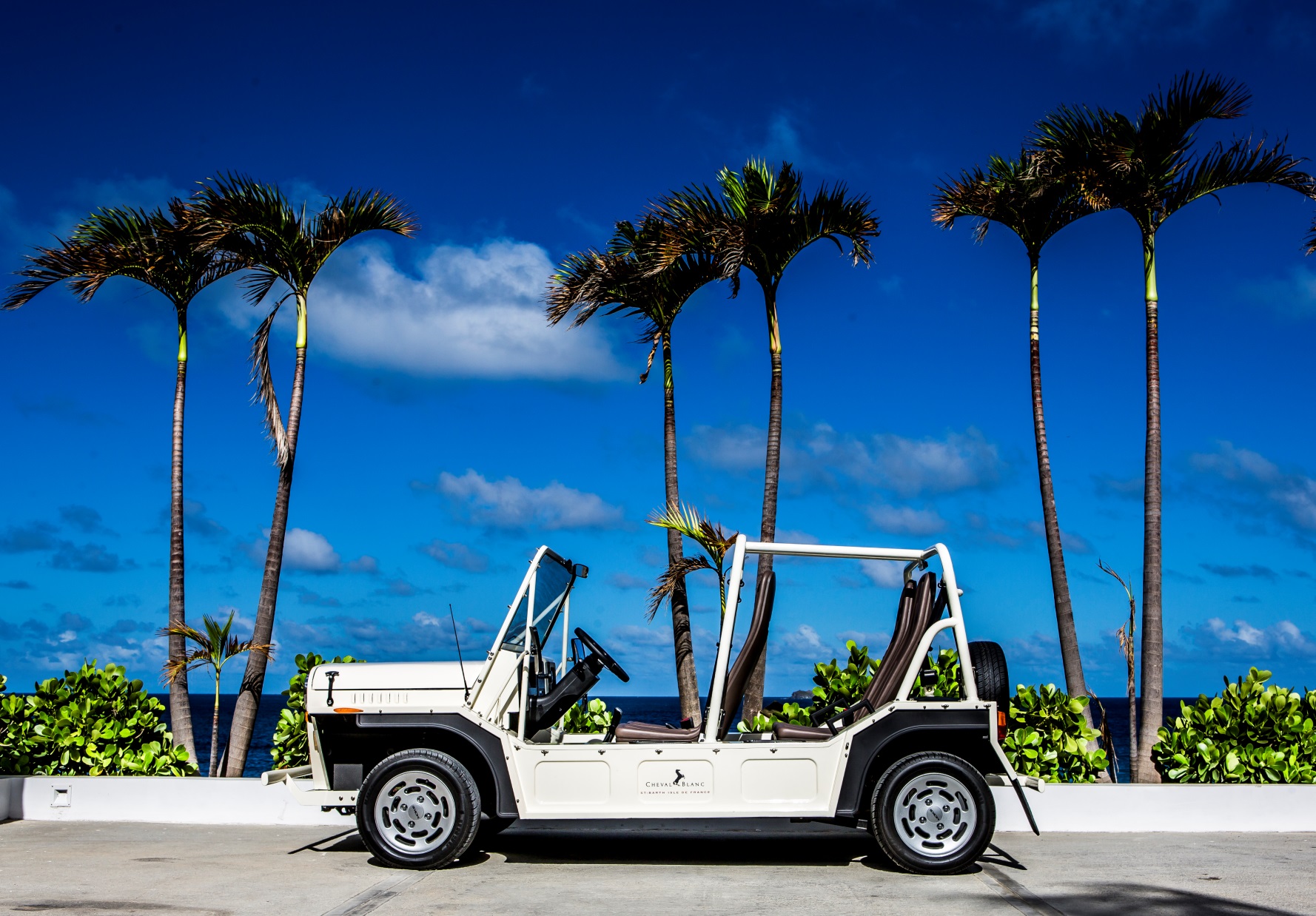 But not to be outdone, Cheval Blanc St Barth Isle de France, which has been awarded the No. 11 spot among the Top 100 Readers' Travel Awards for 2016, has now introduced The Mini Moke ride. The Mini Moke is a sophisticated contemporary of the golf buggies, which has now become the signature transportation for their hotel guests. This is the quintessential St. Barth ride, created in the brand's trademark taupe, and is specifically for guests to cruise around the island in fine style – a negligible yet significant addition for an unforgettable vacation experience.
Belmond Cap Juluca Hotel – Anguilla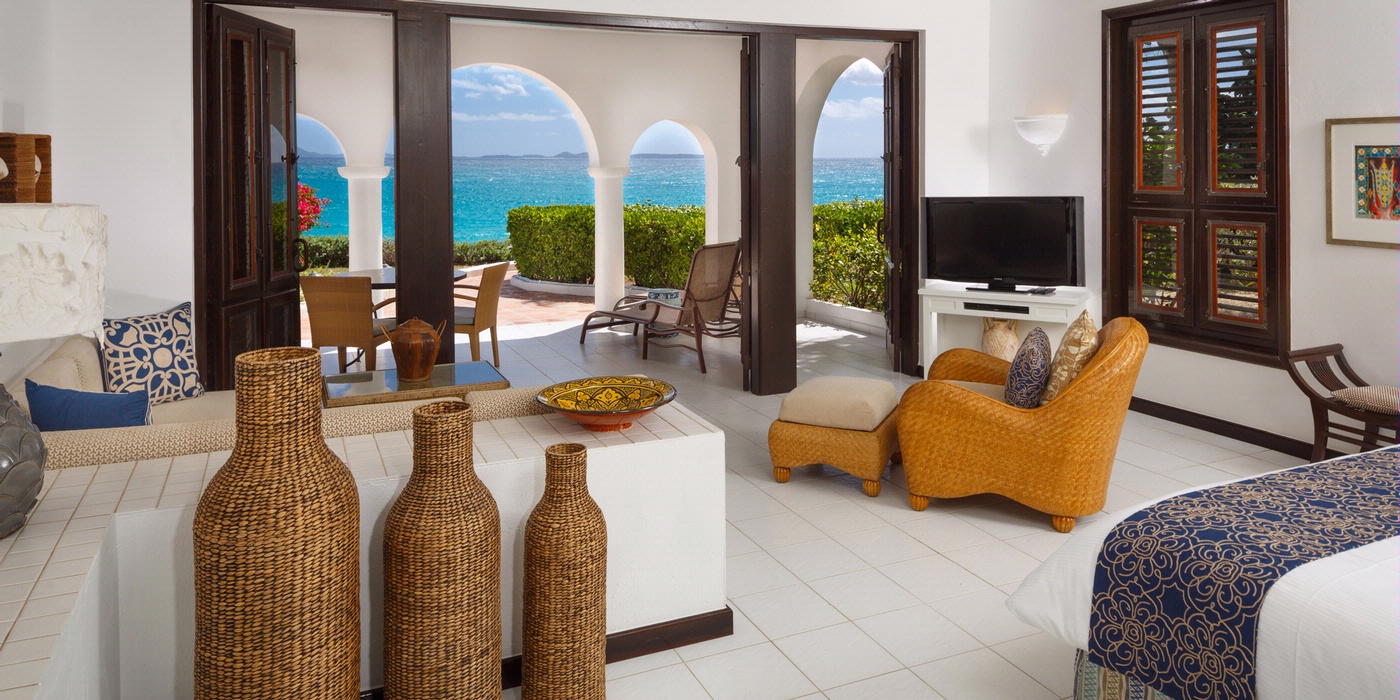 When Belmond Ltd. acquired Hotel Cipriani in Venice, this was but a springboard for the now world renowned brand which currently owns and operates 48 unique and distinctive hotels around the world. This includes rail and river cruise experiences of awe inspiring proportions in many of the world's most celebrated tourist destinations. As a part of their broad offering Belmond has eight luxury tourist trains including the Venice Simplon-Orient-Express, along with safaris and '21' Club in midtown Manhattan, ranked as one of New York's most storied restaurants and which has been around since 1929. Built back in the Prohibition Era, the owners went to great length to have architect Frank Buchanan design a complex system of camouflaged doors, invisible chutes, revolving bars and a secret wine cellar to hide and destroy the evidence.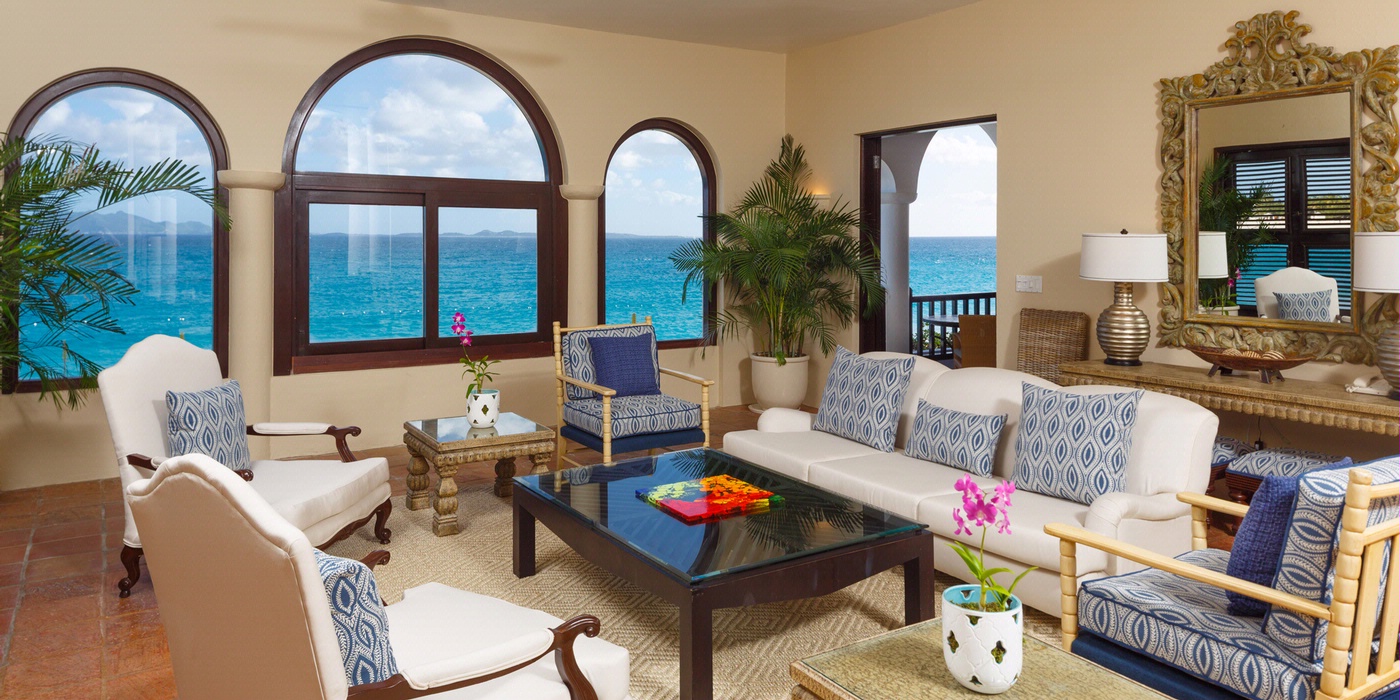 "Rather cleverly, the wine cellar was not actually part of the '21' building at all, but the basement of No. 19 next door. So when the authorities asked the bar staff if they had any liquor on the premises, they could honestly say no! In reality, it housed 2,000 cases of wine, including the private collections of Presidents Gerald Ford and Richard Nixon, Elizabeth Taylor, Sophia Loren, Mae West, Eva Gabor and Aristotle Onassis," as stated on their website.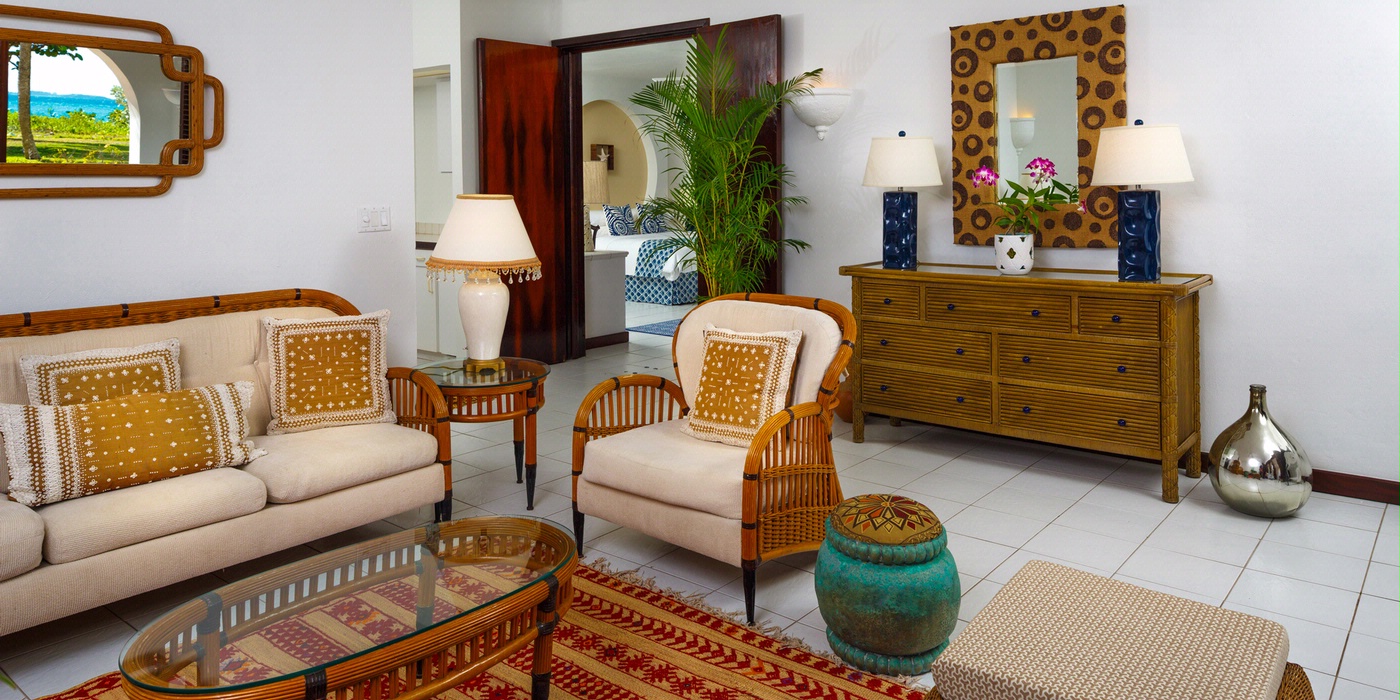 It is against this background that one can begin to conjure up visions of the completed 121 room renovated Belmond Cap Juluca Hotel, a luxury beach resort on the Caribbean island of Anguilla, British West Indies, which Belmond has recently acquired. The renovation which will be respectful of the authentic charm of the iconic resort, will also include interior furnishings of all suites and villas; the introduction of new culinary concepts that celebrate the local food culture; enhancements to the spa; and new and renovated public areas. After the refurbishment, which is expected to be completed by the end of 2018, Belmond will have invested a total of approximately $121 million in the acquisition and subsequent renovation and expansion of the resort.

The award-winning property features Greco-Moorish architecture spread over two crescent-shaped coves with ocean-view suites and villas that offer secluded privacy set within lush tropical gardens. There are four restaurants and bars, a large salt water pool, tennis courts, a fitness center, a library and private screening room. The property was developed by Linda and Charles Hickox, nearly 30 years ago.
The laid-back island of Anguilla boasts some of the best beaches in the Caribbean with the softest white sand and clear blue waters where dolphins swim in the surf. There is a well-developed food scene and colorful beach bars. The island is a haven for those wishing to escape and disconnect from everyday distractions.
Belmond Andean Explorer – Luxury Sleeper Train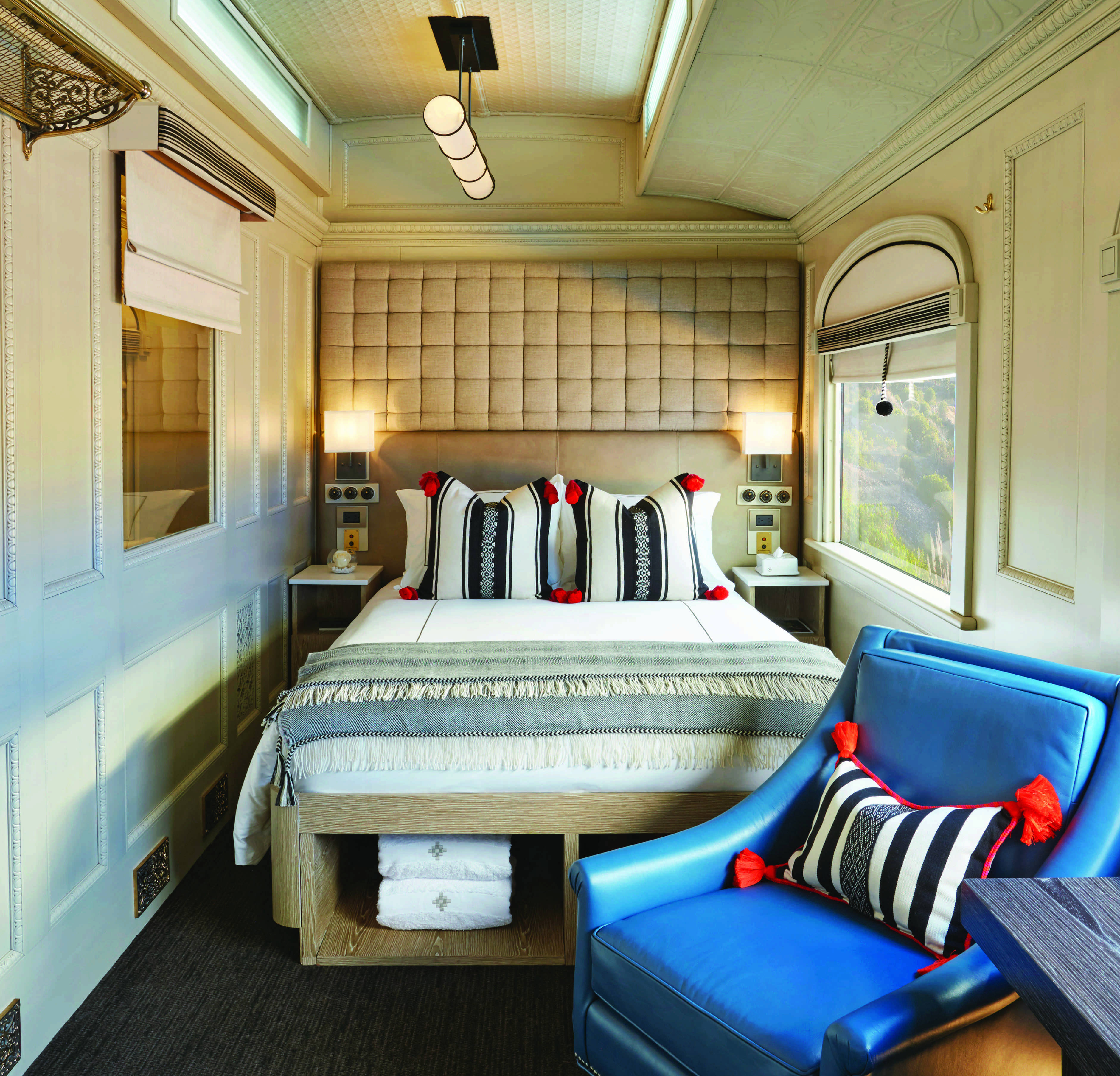 But Belmond had also joined the ranks of the cutting edge, innovative, luxury sleeper train concept and has launched yet another first in South America.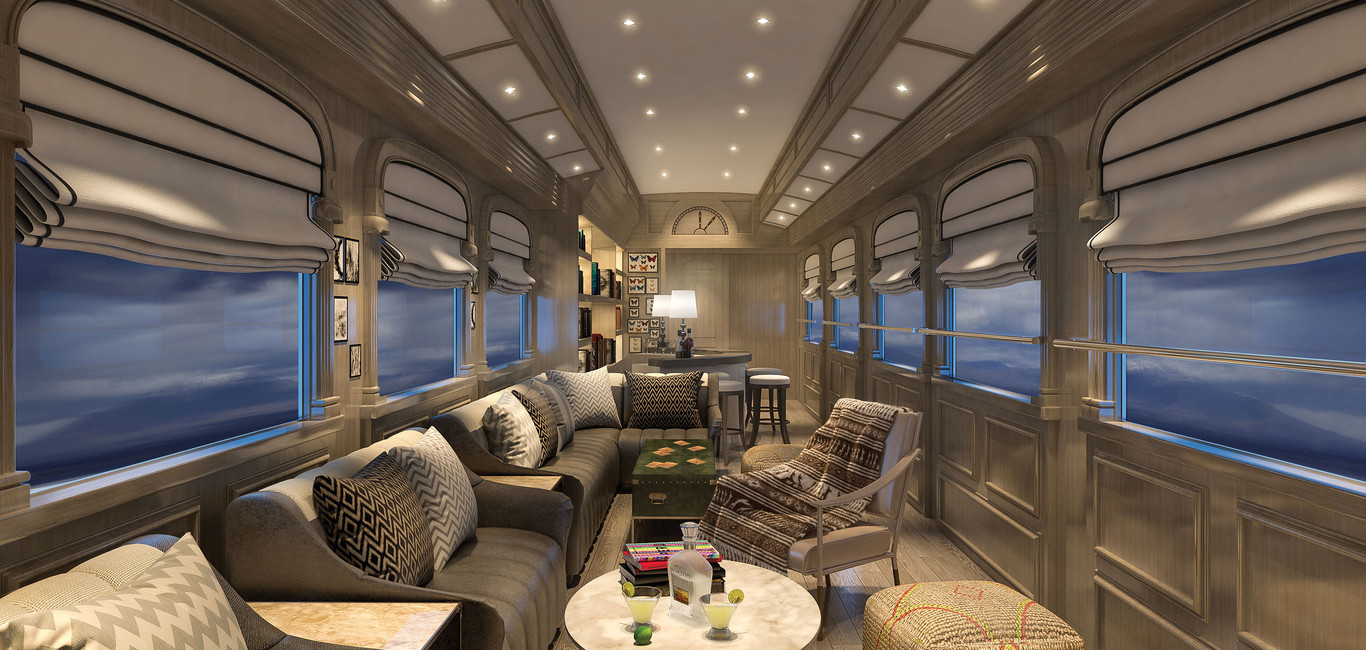 The Belmond Andean Explorer is dubbed a new level of luxury. It plies a scenic route through Peru, taking in natural wonders such as Lake Titicaca and Colca Canyon en-route while boasting a Library, Boutique, Observation Car and Piano Bar Car.
Ani Villas, Anguilla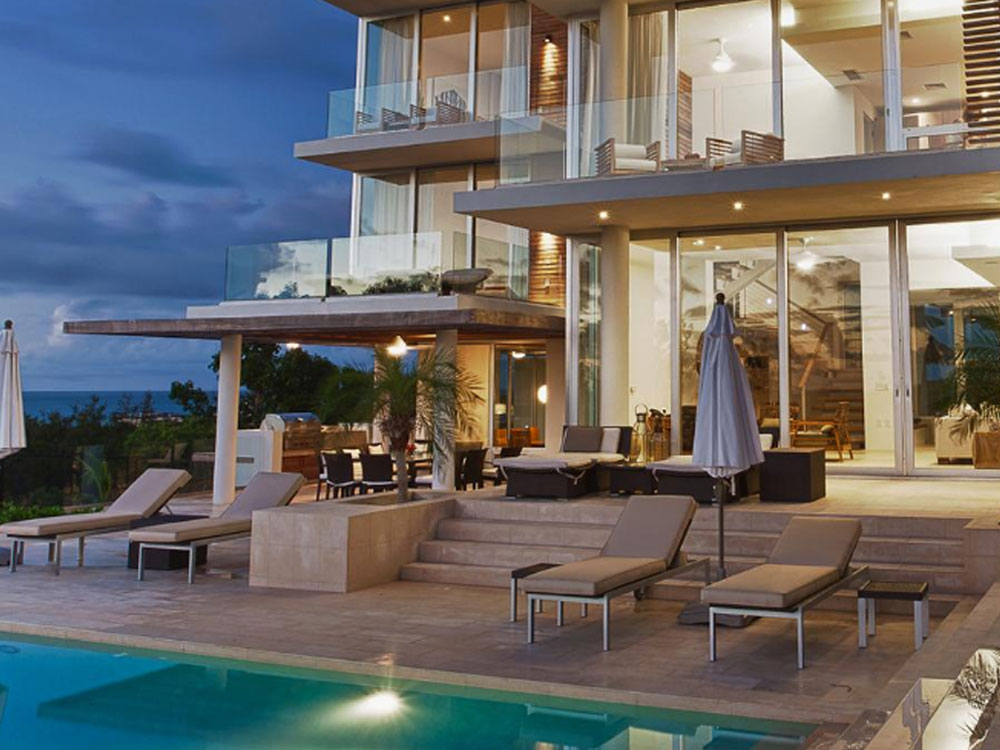 It is true that all of earth pulsates with indigenous and unreplicable beauty and the Caribbean got its fair share. The 35 square mile island of Anguilla that was found to be inhabited with Arawaks who worshipped the sun and the moon, and who believed that the caves known as Big Springs at Island Harbour, and The Fountain at Shoal Bay is where mankind originated, is one such island. Back then it was called Malliouhana. Anguilla was later annexed with St. Kitts and Nevis but as this was not a desirable state, the federation collapsed in 1962.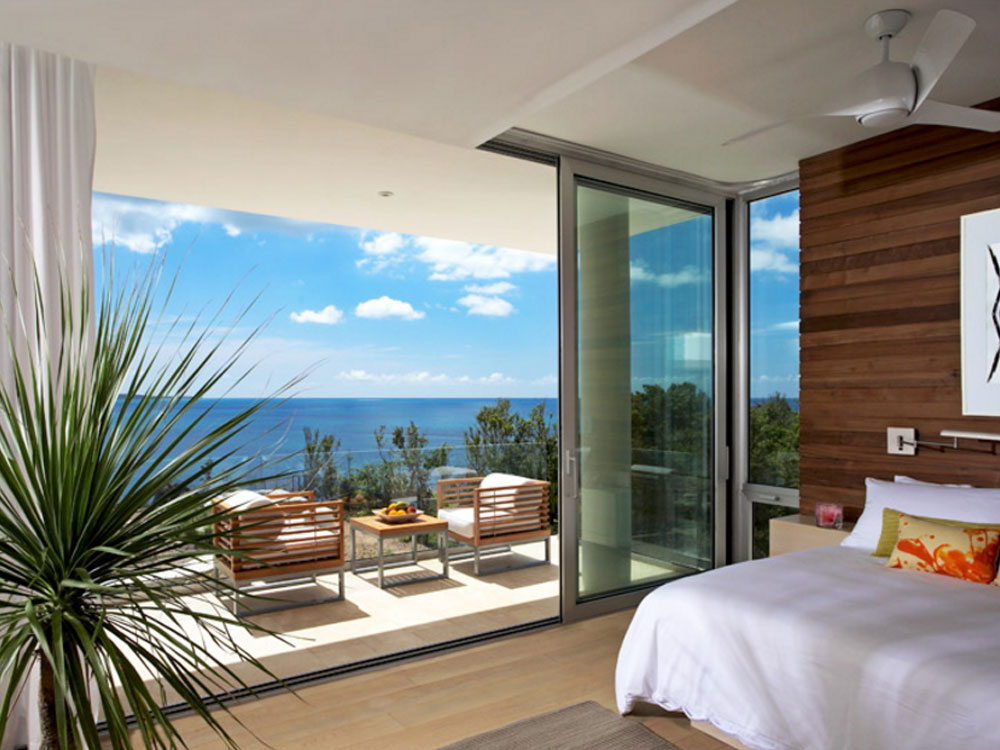 The Fountain cavern, which is a major attraction, is believed to be the Eastern Caribbean's most intact ceremonial site dating back to when the Arawaks settled there. It features petrogylphs, offering bowls, and a stalagmite carved in the likeness of Jocahu, meaning "Giver of Cassava," the Supreme Deity of the Arawak people, probably because cassava was their main crop. Besides cassava, they ate conchs, shellfish and whelks. Corn and sweet potato were also cultivated. The Arawaks adorned themselves with jewelry made from seeds, bones and sea shells.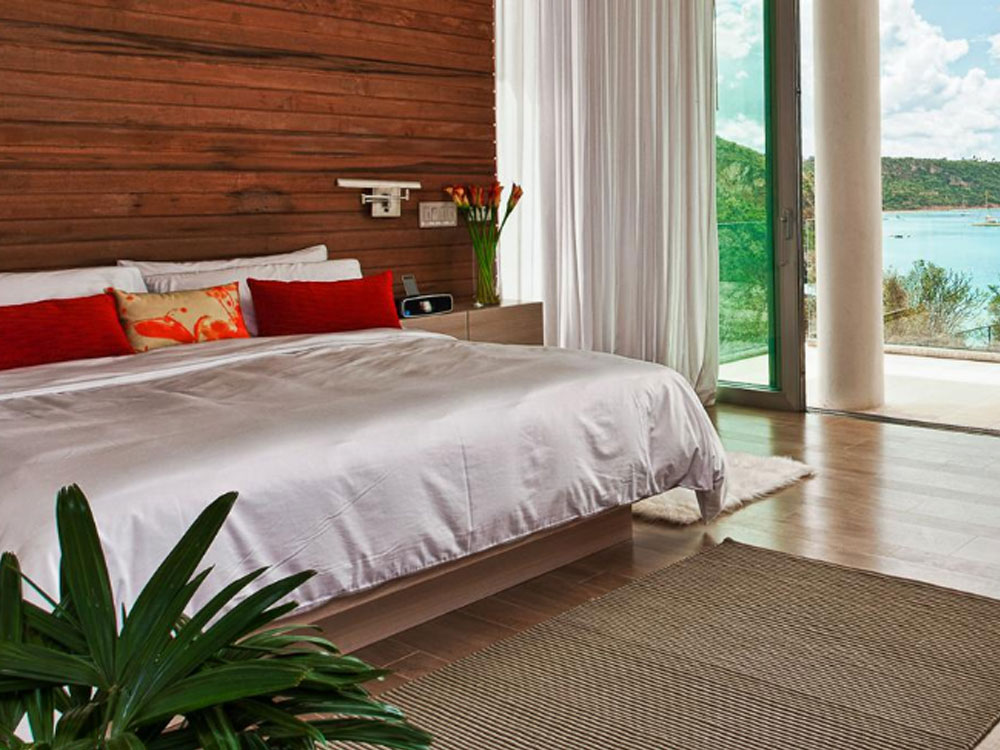 Today, Anguilla's economy depends heavily on tourism, fish and lobster exports, offshore banking and remittances from its emigrants. There are no sales or income tax in Anguilla. For its coffers, the government relies on import duties, taxes on services, corporate registrations, and various licensing fees.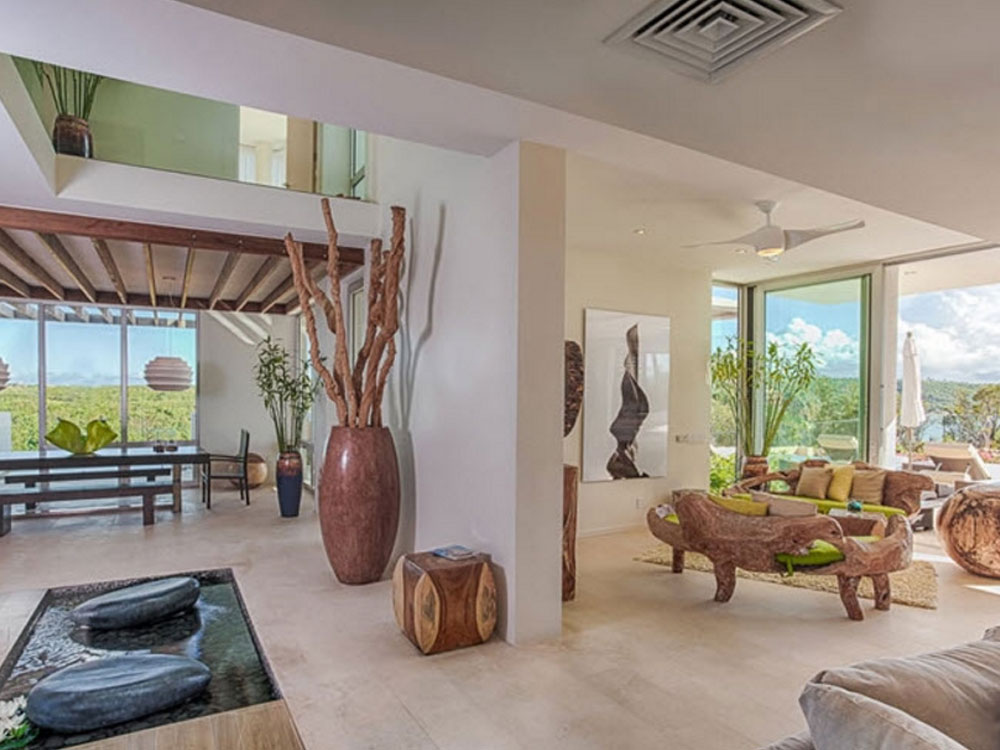 Ani Villas, which was built on a 2 acre estate perched atop the cliff known as Little Bay, is another of the Caribbean's all inclusive, eco-tourist luxury resorts.
Quite apart from its offering of breathtaking views of the Caribbean sea, guests have all the amenities they may desire, including: infinity swimming pools, cliff top hot tubs, roof decks, open lounges, a cliff top ceremony platform and state of the art gym. Additionally, there is blue whale watching or kayaking under limestone cliffs, mixologist-curated bars, executive chefs and stimulating children's activities. Ani Villas offers the ideal package for the discerning tourist experience. Not to mention that within a short stay one could actually bask in the sun at several of the island's 33 beaches.
Built primarily to host large groups or families, the two villas offer a combined experience of ten bedrooms, which is essentially the entire estate.
So, there is more to see and do in Anguilla than just beautiful beaches and villas. The island has a unique history bolstered by its historical sites which are all within a 20 minute drive from any given point.
JUMBY BAY – ANTIGUA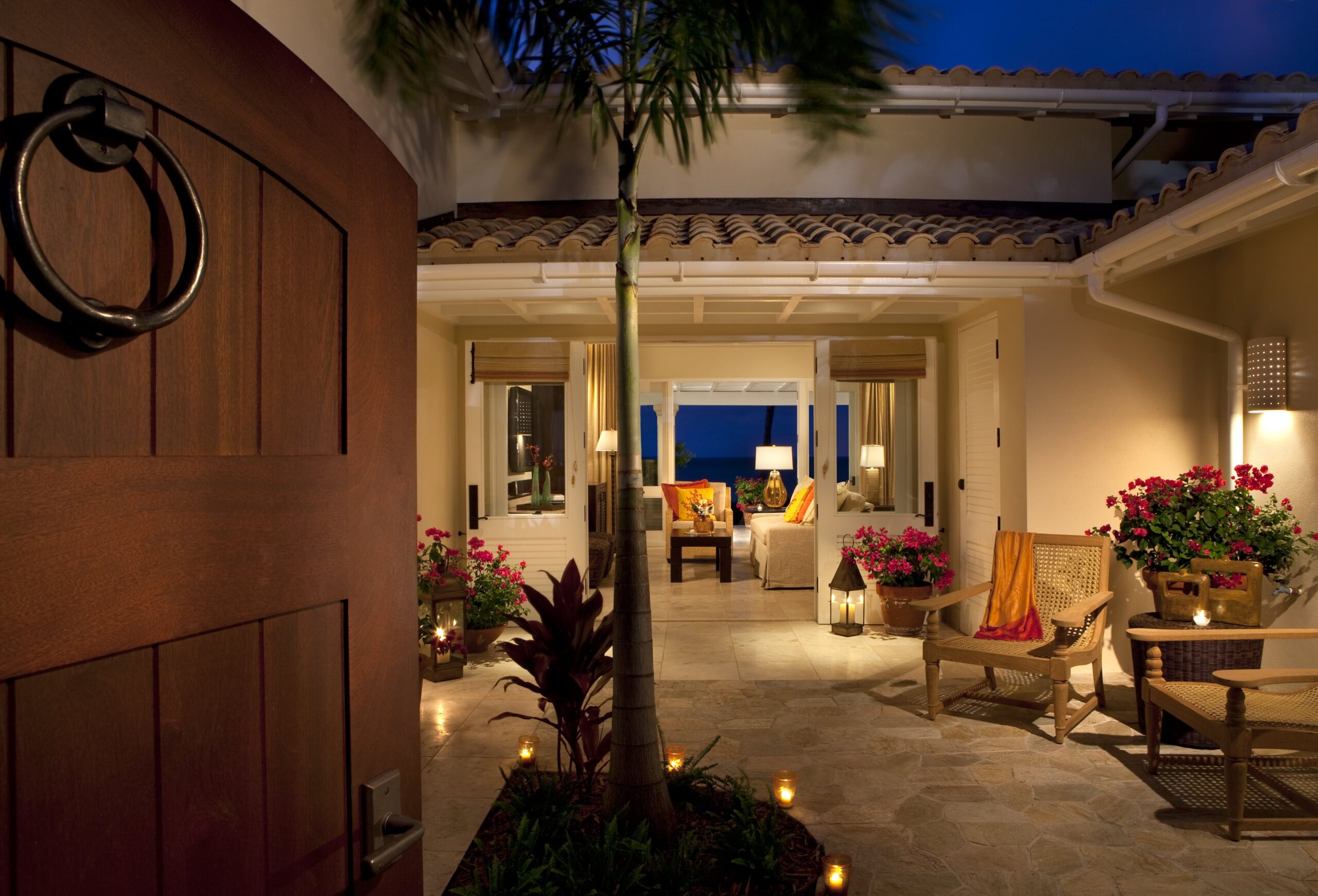 The speckled dots of isles that form the Leeward Islands on the map of the Caribbean, are hardly ever thought of as tourist destinations by their larger neighbors who were born, bred and influenced on a stew of looming first world images, so massive and broad in perspective, that they eclipse the peripheral vision for experiencing any other area of island paradise.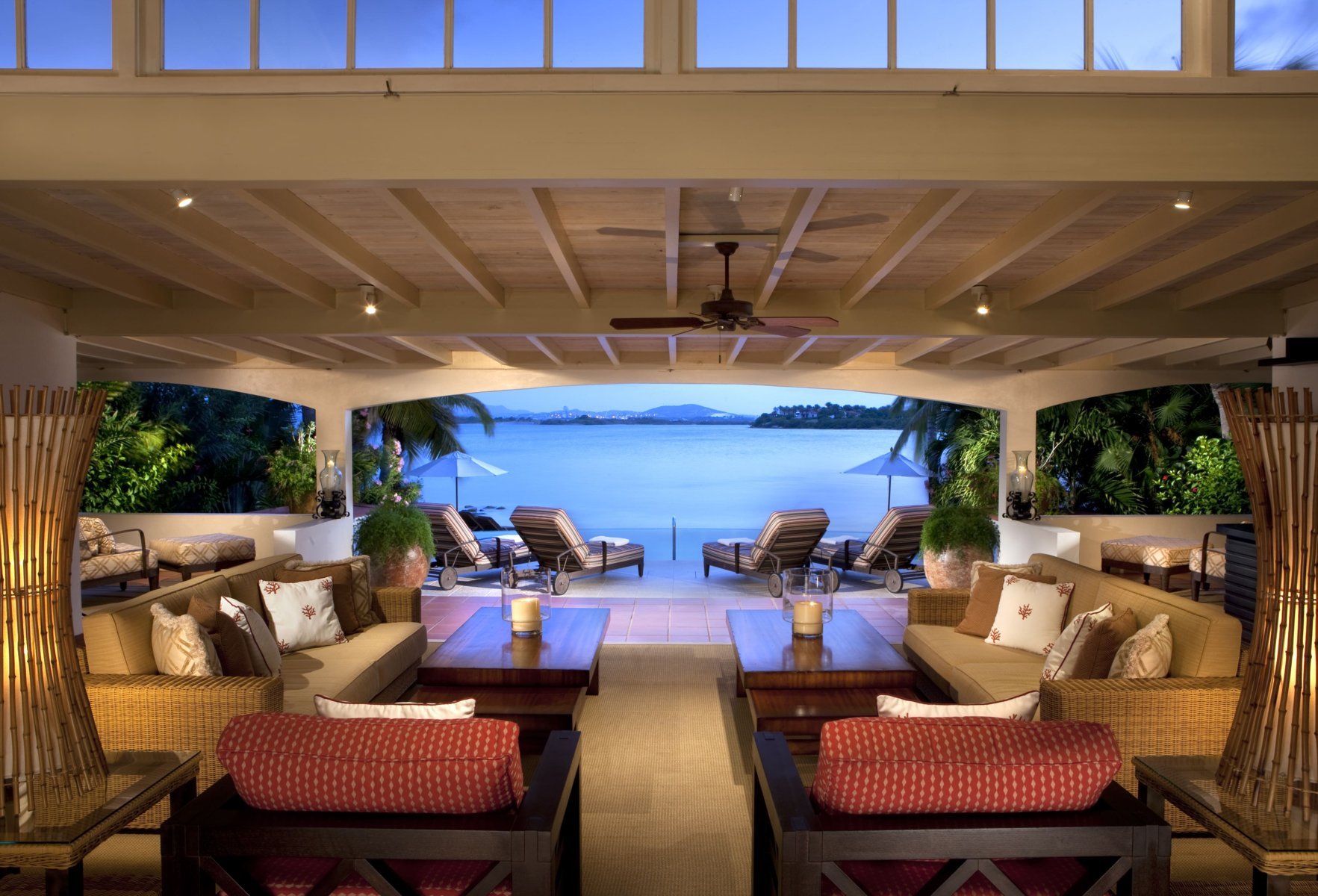 The mainland of Antigua, just 14 miles long and 11 miles wide, has its own allure as a tourist destination given places of interest such as the 18th century preservation known as Nelson's Dockyard, the bird sanctuary a stone's throw away on the island of Barbuda and the "powdery soft" beaches that the island boasts, but the pearl of the country is Jumby Bay Island.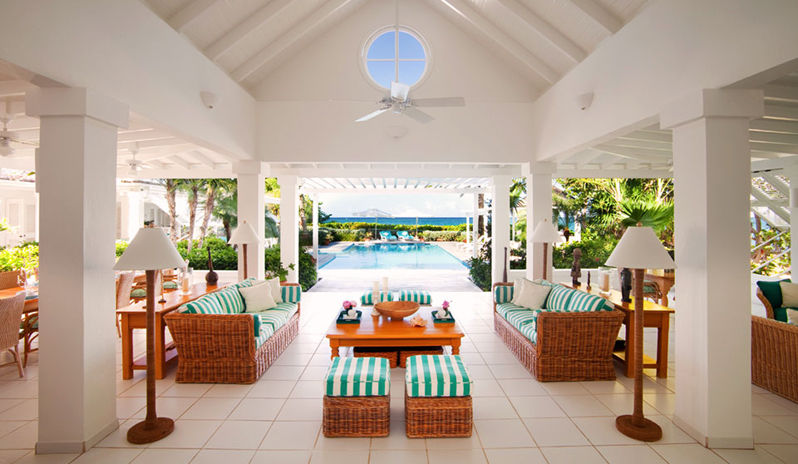 A secluded privately owned island spanning 300 acres, Jumby Bay, A Rosewood Resort tops it all with drop dead gorgeous villas that sit only two miles away. Accessible only by boat, this private island is so far removed from the regular hustle and bustle of life that it could be placed at a naturesque altitude, so to speak, teeming with the dream of the perfect balance and harmony of ecotourism aspirants. The 7 minute boat ride from Antigua's mainland transports one to the island which remains a virginal escape with its landscape enhanced by flora, fauna and uniformed palm trees which render justice to what Admiral Nelson must have seen when it was first discovered in 1784.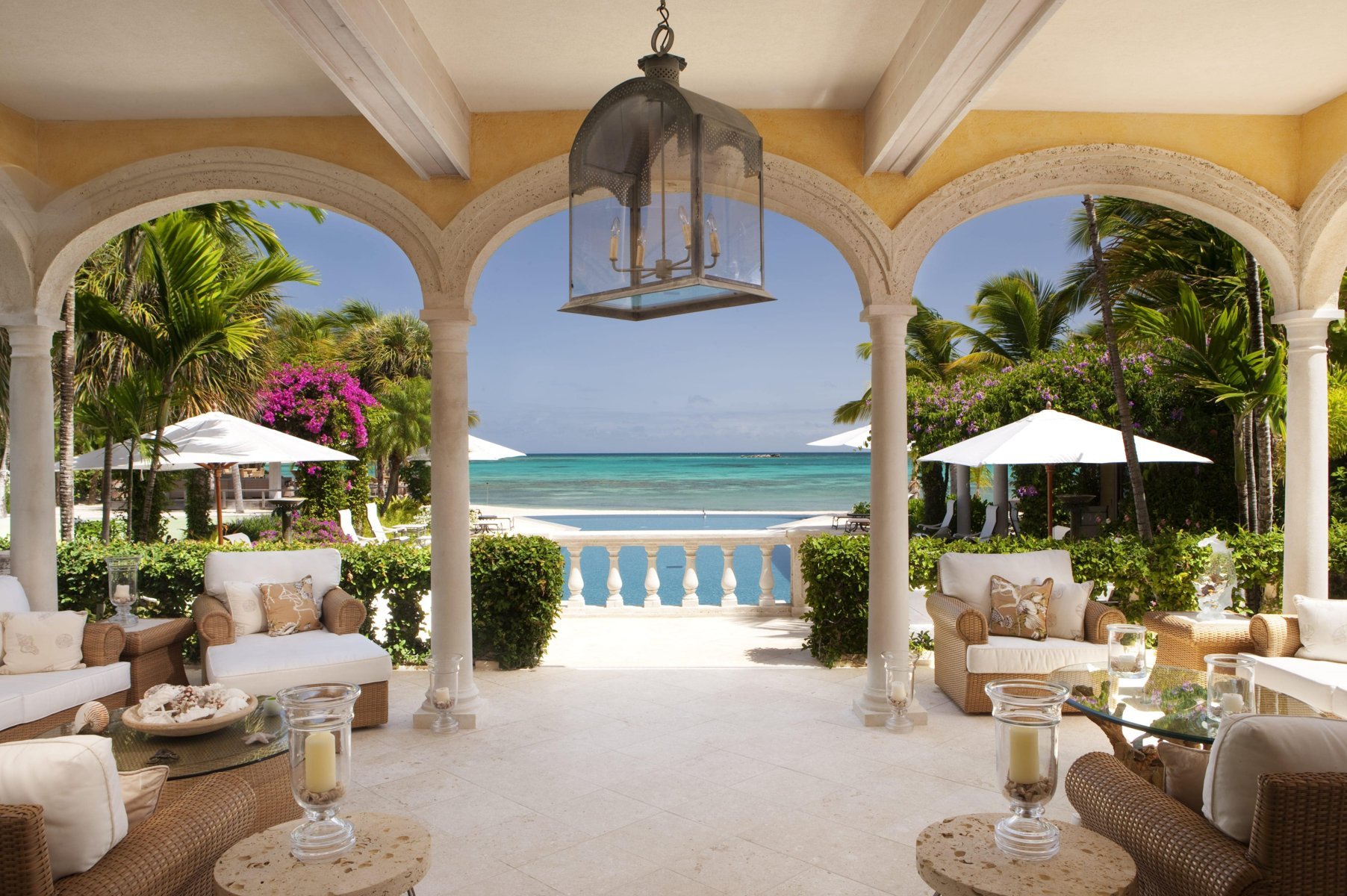 Jumby Bay's plethora of fab beach houses and villas leaves the prospective guest in a spate of confusion for a choice. Though each has its unique architectural charm and particular décor identity their appeal of elegance smacks at the same level of the plateau, all replete with lush beautifully appointed landscapes.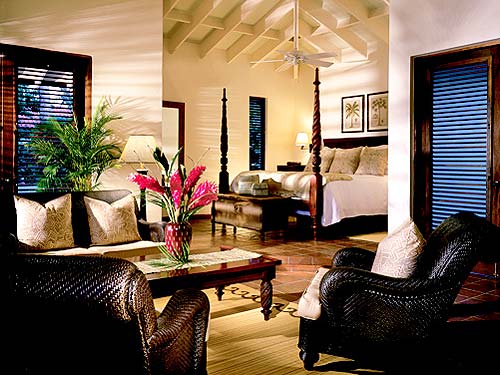 These villas are a decorator's dream. Jumby Bay's visitors who would prefer the experience of pure quietude and beauty may choose to bask in the sun on any one of the three dazzling white sand beaches, lavish in the experience of Sense spa, bathe in the delightful infinity pool which gives the illusion of connectedness to the Caribbean Sea or just choose to relax in the ambiance of the garden while writing the next best-selling book, blockbuster movie or contemplating a major business decision.
NOTRE DAME BASCILICA – Montreal, Canada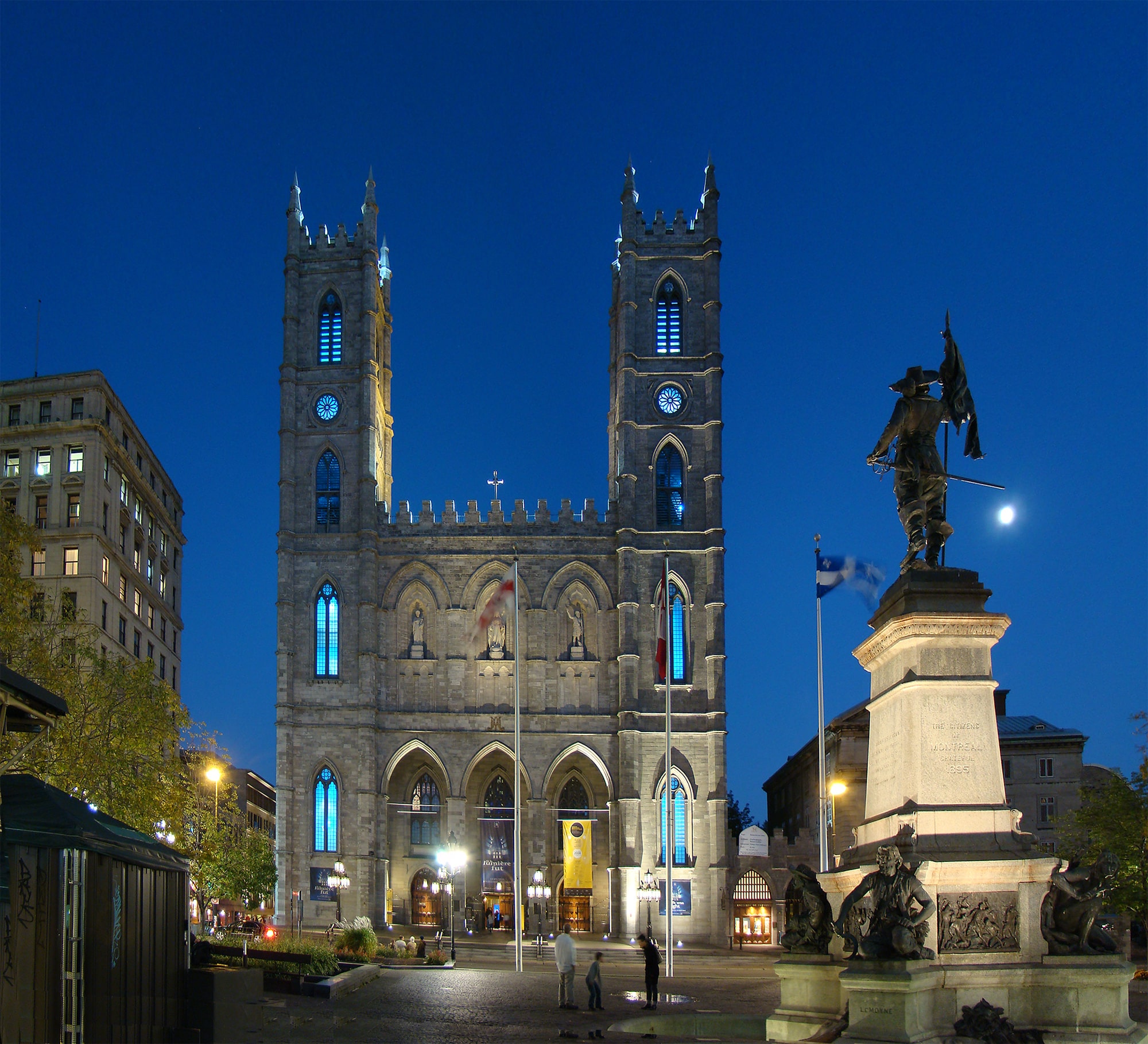 In the summer of 1989, we journeyed to Montreal Canada with excited anticipation of visiting the library at McGill University. It was summertime so despite this being our primary intention, we also wanted to see this historical city that stood apart, not just in architectural magnificence and old world charm, but also being the only French speaking province on this side of the world. My children and I drove through that part of the campus that was accessible to us but our hopes were dashed as the library and indeed most other areas of the campus were closed.
As we approached the cobble stoned heart of the city we were faced with the imposing structure of the Notre Dame Basilica, standing majestically across the road from us. I had no idea what to expect. Up to then, the most beautiful church I had entered was Scot's Kirk in Jamaica, to which we strutted from St. George's Primary school just up the road, in as uniformed a lined as could be expected of children, for choir practice. At seven years old the structure loomed just as large as the Basilica did in my adulthood. As an islander I remained open to all new experiences of different cultures and heritage and admired conscious appreciation of preservation in historical statements through architecture.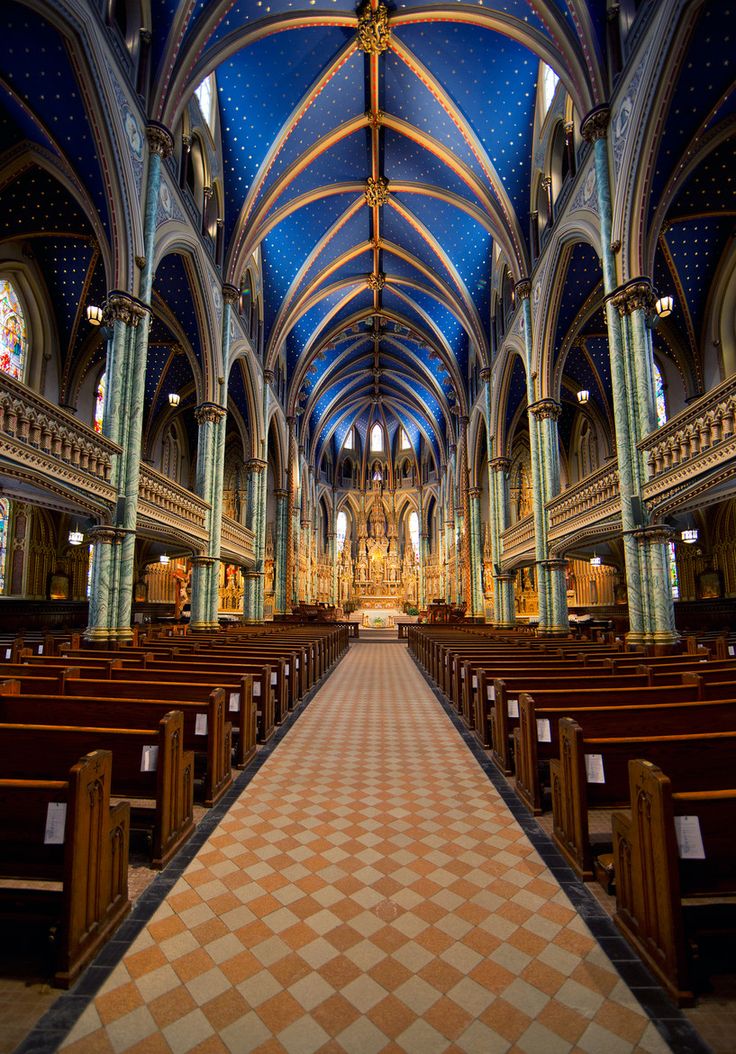 We ascended the wide steps leading into the church, where, upon entering we were greeted by an enchanting sea of lighted white candles, each representing one of hundreds of charities that the church supported. As the dazzling lights resonated in the depth of my soul, a fleeting thought led me to hope that that moment of reverence had impacted my children as it did me, for regardless of faith or denomination, I felt the presence of God in the Basilica.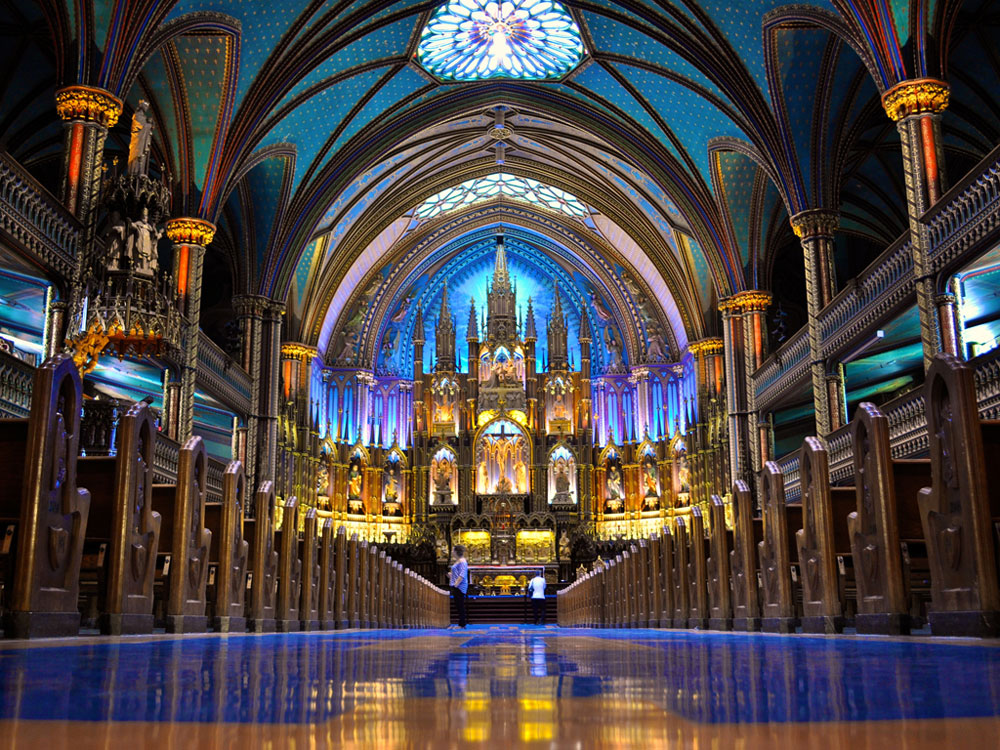 As I continued to look around through teary eyes, the lights gradually diminished from my inner vision and brought the altar into sharper focus. The wonderful backdrop of art intricately inlaid in a profusion of stained glass with images that depicts scriptural passages and artistic expressions of Montreal's rich history was in full view. I noted as well that each pew had carved out heads on the shoulder height extension of the arm rests. My knees answered the call for near prostration as I kneeled in unrushed prayer at the foot of the altar.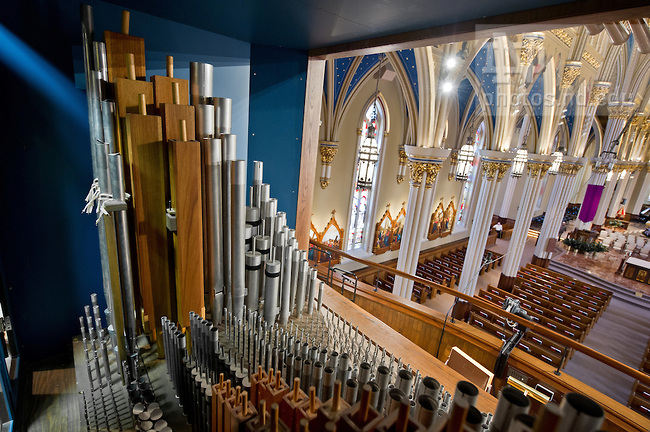 We caught up mid-stream with the guided tour and listened intently to the history of the church. We learned more about the thousands of 24 carat gold stars embellishing the blue vaulted ceiling, the details on Canada's largest sprawling gigantic piped organ, with 7,000 pipes that measure from 32 feet at their largest to ¼ inch at their smallest; and the bell in the west tower that weighs over 11 tons or 24,000 lbs. The acoustics in the church that seats 3,500 people allow voice to be carried without the aid of electronic amplification.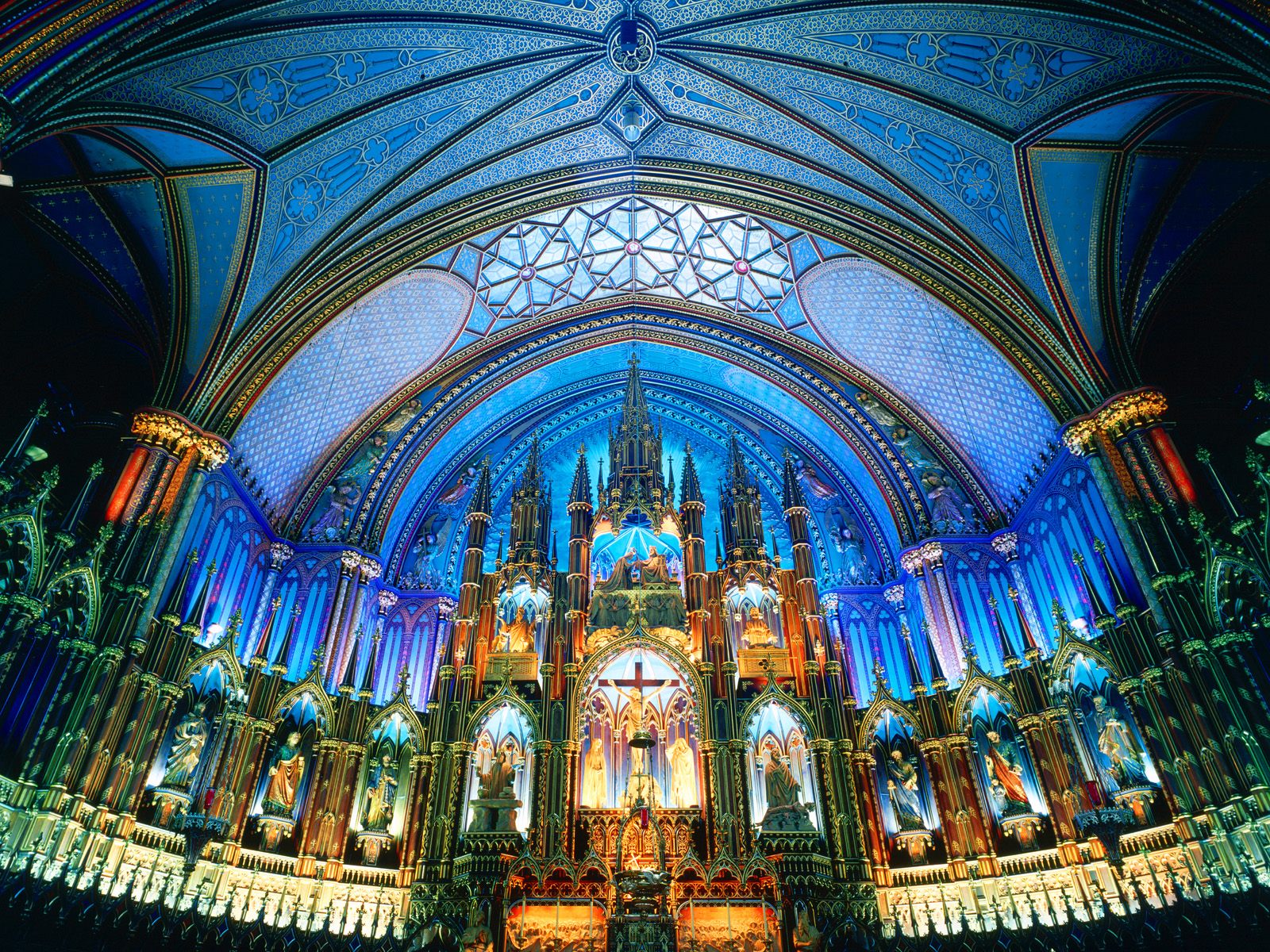 Originally built in the 1600s, this Gothic Revival styled French Canadian Roman Catholic church was renovated in the 1820s by an Irish Protestant architect whose pride of work converted him to Catholicism and whose body is the only one that has been laid to rest in the crypt there. This is apt, for though its magnificence may be viewed by some as ostentatious there is something that signifies that the quintessential soul of the "creator" stands still.
Half Moon Hotel – Jamaica
The prestigious, unique and green conscious accommodations that one experiences at Jamaica's Half Moon Hotel are not only echoed in the halls of this world class resort, but resonate around the world and back in the numerous awards the hotel has earned for its spa, fine dining restaurants, shopping village and informal native elegance.
Jamaica's Half Moon has a rich history, which includes being the only resort in the Caribbean to have earned a four diamond designation from AAA for over 27 consecutive years, easily ranking it among sister resorts synonymous with paradise.
Golf aficionados are drawn to its award winning 18-hole, par-72 championship golf course, designed by world renowned course architect Robert Trent Jones Sr. and renovated in 2005 by legendary course architect, Roger Rulewich.
The Half Moon experience includes something for everyone, with access to 13 lit tennis courts, four squash courts, a croquet lawn, miniature golf and jogging trail. Guests partial to water sports may indulge in snorkeling, scuba diving, glass bottom boat tours or enjoy any of the resort's 51 pools, including an Olympic-size lap pool and a "swim with the dolphins" experience.
Since its development on a 35 acre crescent-shaped bay (hence the name, Half Moon) in 1954, the hotel boasts a home-away-from-home experience frequented by countless luminaries, including HRH Queen Elizabeth II, Prince Phillip and Prince Charles; Prince Rainier of Monaco, Princess Caroline of Monaco and John F. and Jacqueline Kennedy. Prior to his inauguration as President of the United States, the couple spent a month at the resort.
A copy of one of Mrs. Kennedy's handwritten wills hangs in the main lobby of the hotel. Celebrity sightings are frequent at Half Moon, which now boasts 400 luscious acres bordered by a private two-mile, white sand beach and a 24-hour medical facility. Adding to the unique luxury is the Fern Tree Spa experience, complete with an on-site Spa Elder™ to guide, create and counsel clients on a path to wellness with bespoke programs and regimes.
For more than 35 years, Stella Gray, the Chief Spa Elder™ has been meeting with guests to develop customized treatments for their specific needs. The majority of her therapies come from the natural herbs and botanicals grown in the on-site garden that she personally tends.
Gray and her staff work their magic in spa treatment rooms set amidst lush gardens, which allow guests the option of having their room enclosed or open to their own private garden terrace. Couples may reserve one of the plantation-style couples massage suites, bedecked with wooden millwork, pitched ceilings and private patio with outdoor soaking tubs.
Families, wedding parties and groups enjoy the VIP Spa Lounge, offering a separate living room, treatment room and private pool affording the group quality bonding time and tranquility. Rounding out the ultimate in peaceful relaxation at the Half Moon are two seaside treatment cabanas. Can't you just smell the fresh sea air?
The Royal Madikwe Luxury Safari – Johannesburg, South Africa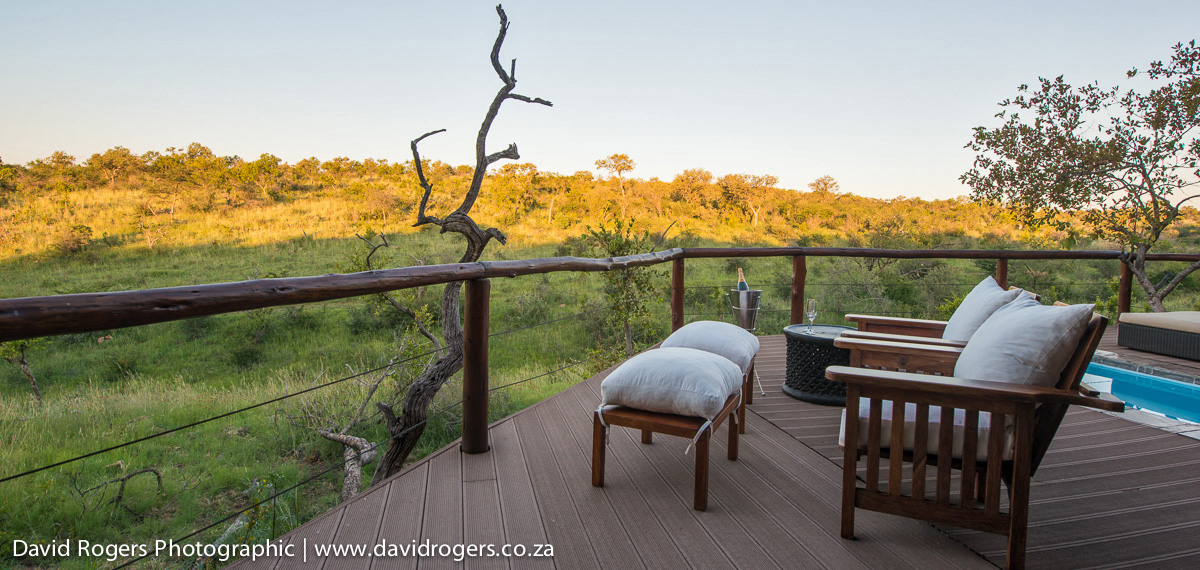 The Royal Madikwe is a small but exclusive game lodge set in arid bush land just an hour's flight from Johannesburg but a million miles away in terms of life style. Three times winner of the World Luxury Hotels award in the game lodge category, they cater to just twelve guests at a time, offering individual attention that is hard to rival even in the competitive luxury safari market that is now one of South Africa's major tourist draw cards, all this, after being shunned by the world for decades, due to its apartheid stance.
Naturally tourists visiting southern Africa associate that part of the world with big game and the safari industry has done a great deal to promote the image of the new South Africa to those living outside the country. Places like Royal Madikwe are able to appeal to an elite tourist niche attracted by the big five and all that the African bush has to offer but a clientele like that carries with it, expectations of luxury that are difficult to live up to. To make life more complicated, the owners of the Royal Madikwe were determined to use the lodge to help uplift the local community in ways that were essential to Nelson Mandela's vision of South Africa. There was to be no quick importation of a chef from France or a Maitre d' from Switzerland. The management team made a decision that they were going to hire locally, not just from within the country's borders but from the small village neighboring the reserve.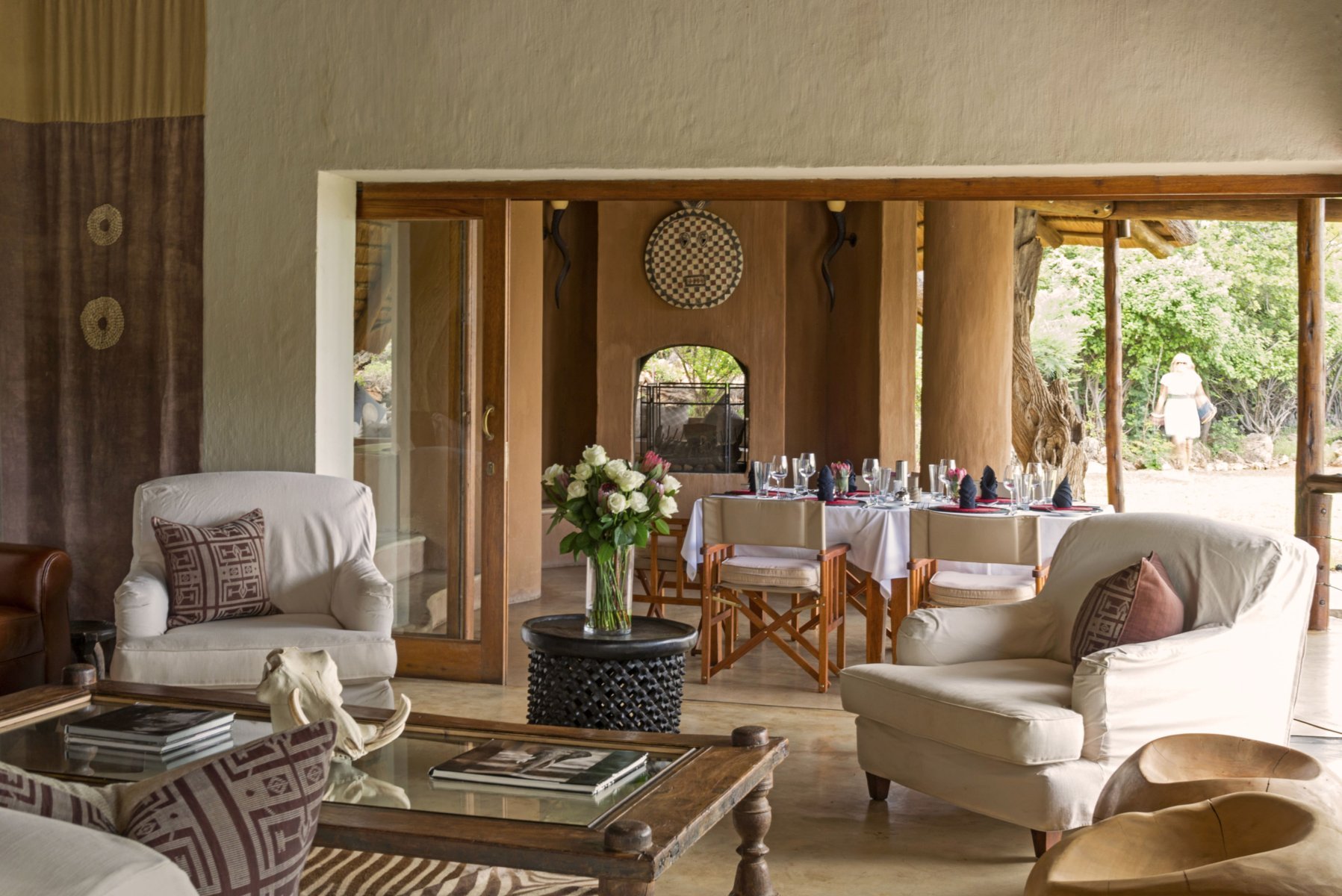 Head of marketing for the lodge, Chantelle Tereblanche, is keen to point out that all the workers from cleaners to safari guides for the Royal Madikwe have been recruited and trained from within the local community. Management is keen to promote close and open relationships and staff and management eat together at least once a week. When the lodge is not full the staff is taken into the reserve on safaris of their own to gain a deeper understanding of the wildlife that the clients come from far and wide to enjoy. Their staff is encouraged to develop their skills and is assisted with training programs if they wish to go further in either the safari or catering side of the industry. In addition the lodge funds several community events in the village including football matches. At the moment they are awaiting delivery of a vehicle that will enable them to provide excursions into the reserve for children from the village school and expose these less privileged youngsters to the animals and fauna that they may not otherwise have discovered even though they live right alongside a reserve so rich in these resources. The owners have committed themselves to investing twenty percent of the profits into local community projects so that visitors to the lodge are helping locals simply by enjoying a safari.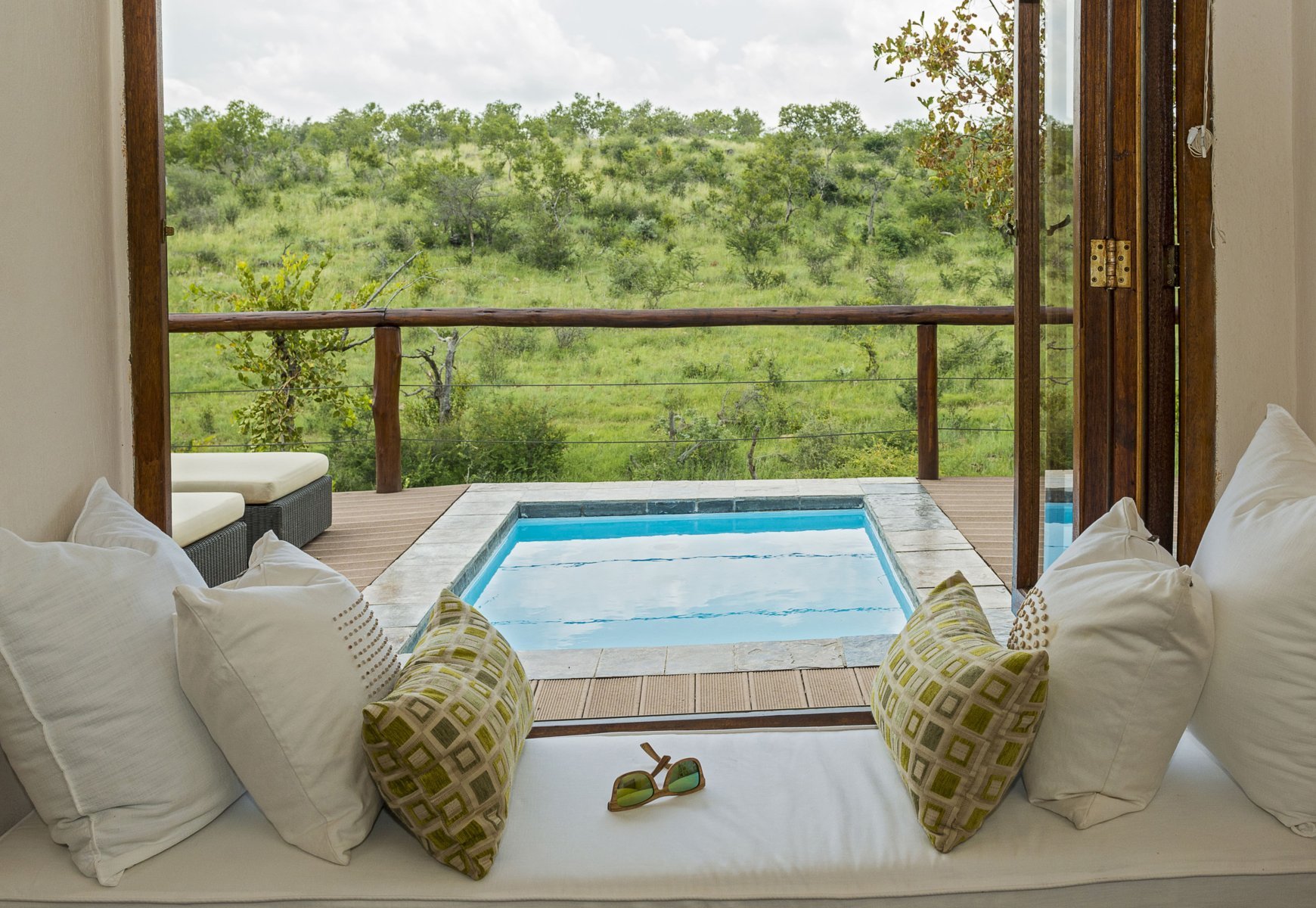 The Royal Madikwe has taken a slightly different approach to that of many other game lodges. Of course the main attraction will always be the game, the big five, the wild dogs and the cheetah but they have deliberately aimed at the family market and so are particularly child friendly where most safaris tend to be more adult affairs. Whilst children are welcome they are not encouraged to stay glued to the television screen or a games consol. Instead they are offered a variety of not quite so "every day" activities such as tracking, conservation awareness or survival skills. A small lodge such as this one is also able to offer game drives for individual families tailored to times that best suit their individual needs.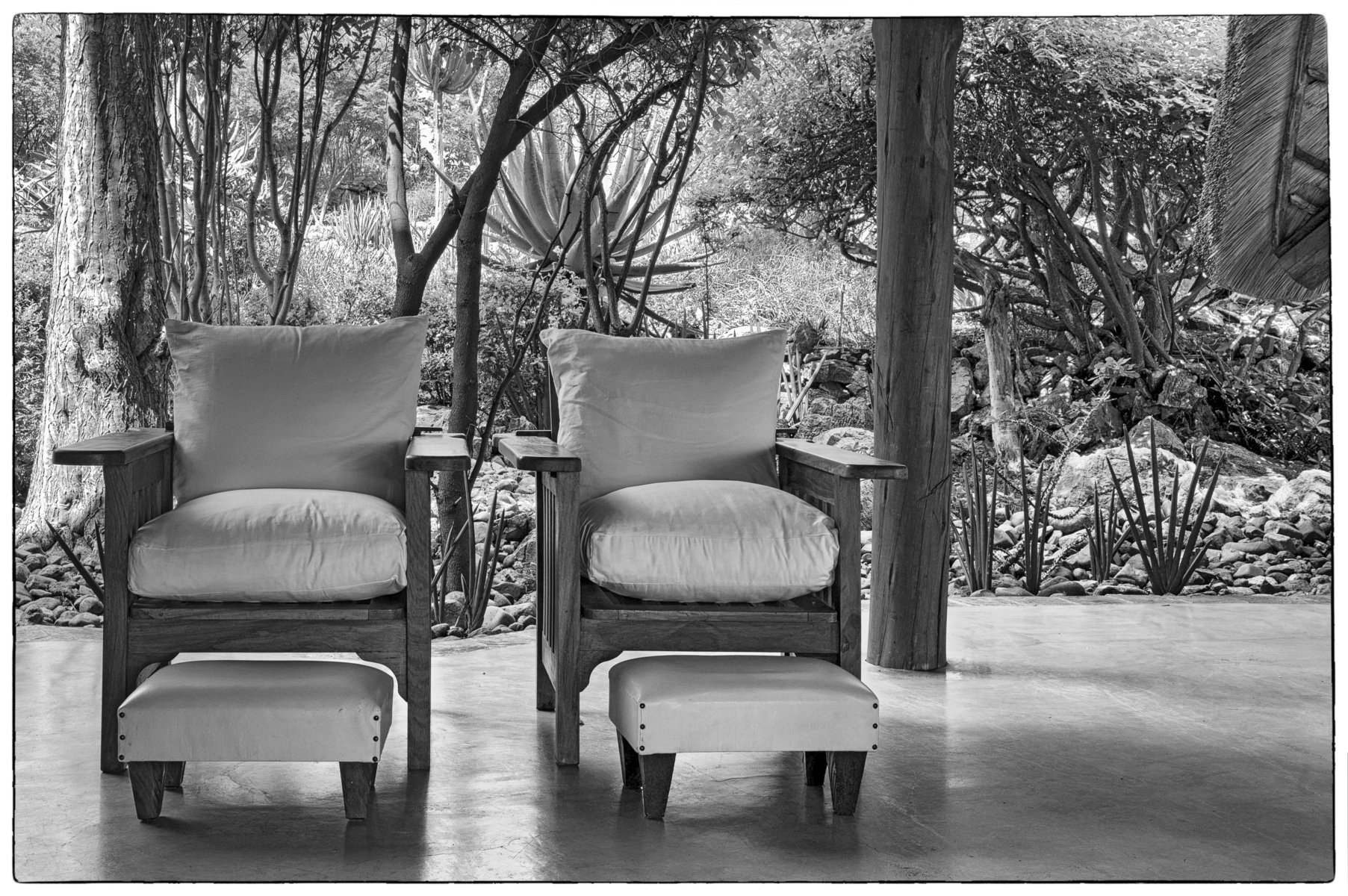 The game reserve is a brave new concept in nature conservation, combining private sector, the state and local communities. The 75,000 hectare park is now South Africa's fifth largest reserve offering numerous options in terms of accommodation, ranging from bush camps to the top end luxury such as that offered by the Royal Madikwe. Although visitors talk in glowing terms of the tasteful rooms with their private viewing decks and plunge pools and mention is always made of the fine food, it is the waterhole that draws the most compliments. There is something very special about sitting in your own private space, quietly sipping from a glass of wine whilst watching wild animals go about the business of taking their drink with total disregard to your presence.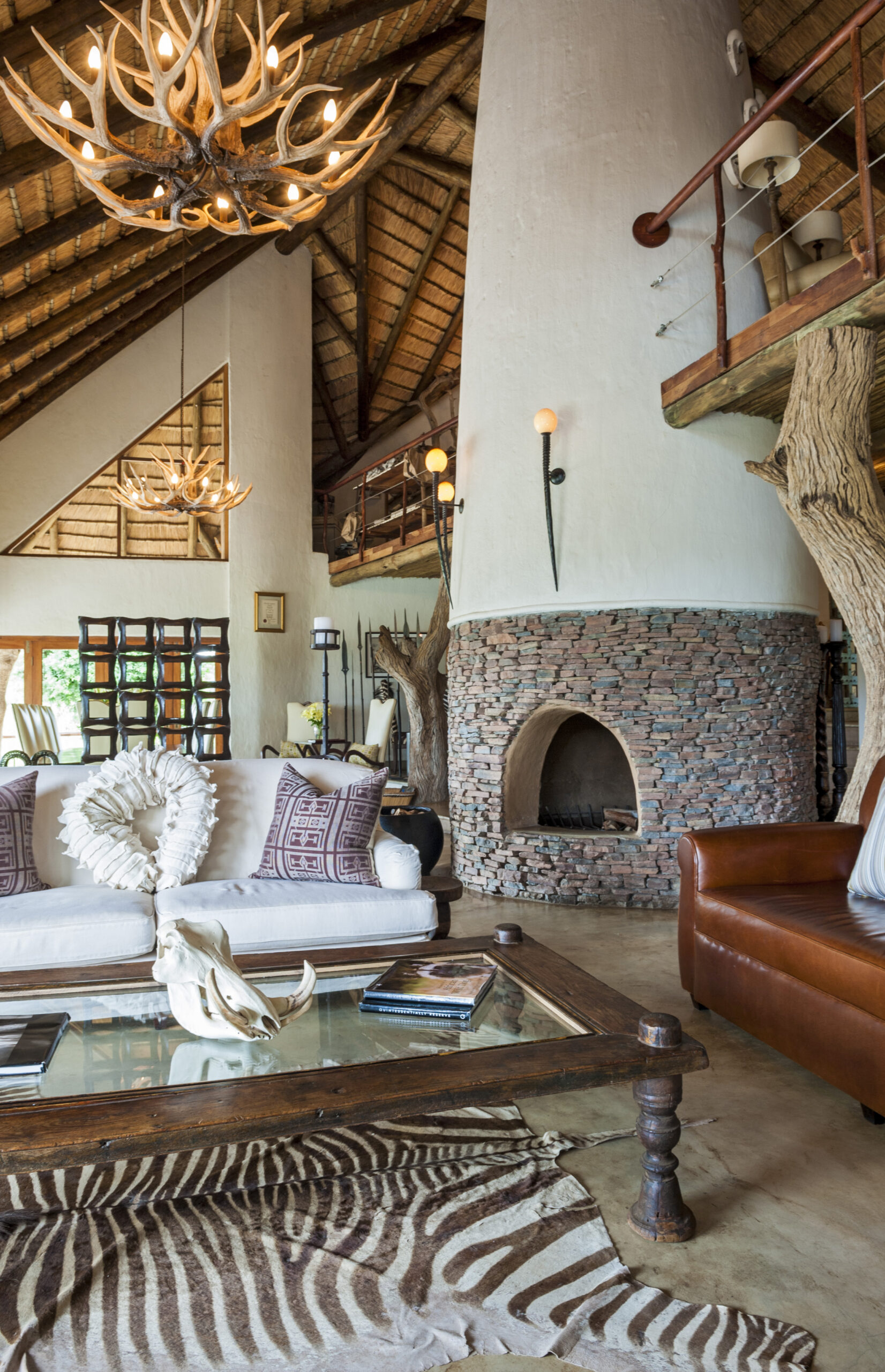 South Africa still has many hurdles to cross before it can truly say it has overcome its past. It is a nation with many problems some of which boil up to make the press from time to time but it is a nation that slowly, sometimes clumsily, is moving toward a better future. The big racial debate that continued to rage for years after the end of apartheid has now moved on only to be replaced by debate about the rich poor divide. That is a problem that needs addressing but it is not a problem exclusive to South Africa as people in even the richest countries are now beginning to discover. Although the legacy of the apartheid years is still fresh in the South African psyche one needs to remember that many of the nations who so loudly condemned that policy had policies of their own that were not that dissimilar in the not too distant past. This is a country that is very aware of the problems it bears but it is also a country where many people, like those at the Royal Madikwe, are doing something to address them for the future and that is where hope lies.
LALIBELA GAME SAFARI, SOUTH AFRICA
A GLIMMER OF LIGHT ON THE DARK CONTINENT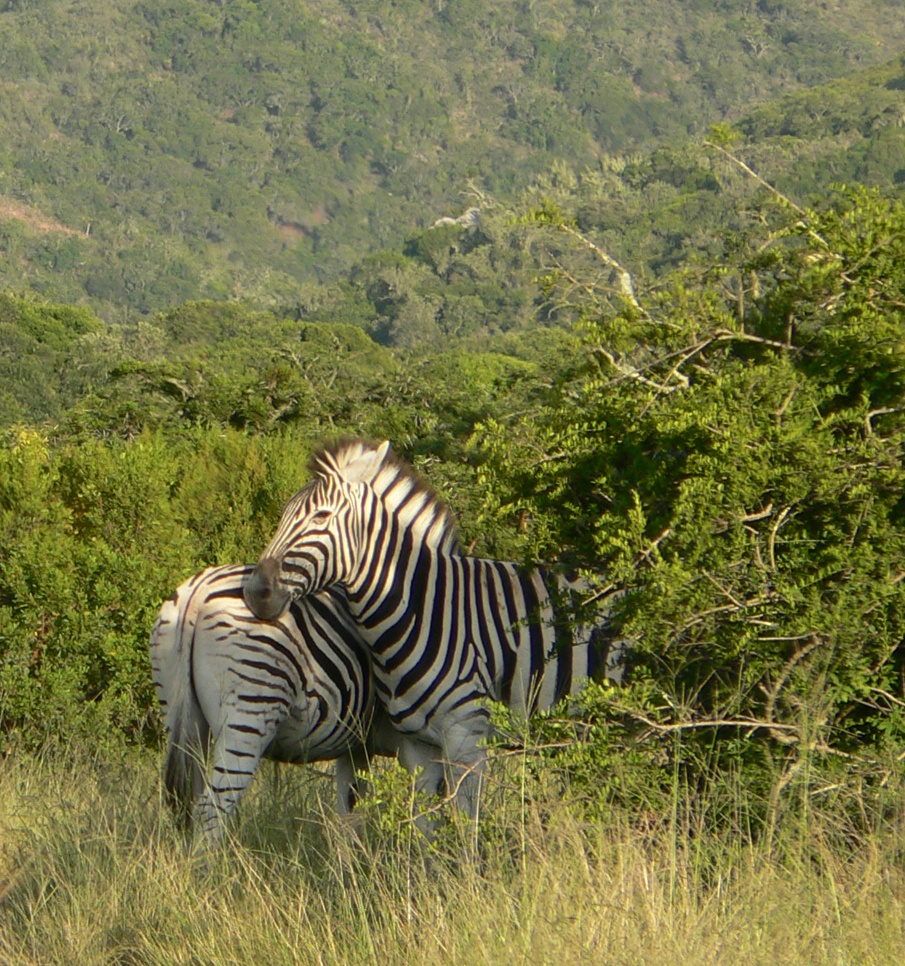 When Nelson Mandella walked out of the Victor Verster Prison in February 1990 it triggered the start of changes to South African life that even the most optimistic of observes would not have predicted. Overnight a country that had been a pariah state for years was suddenly unshackled from the burdens of apartheid, civil violence and international sanctions. Those changes have seen South Africa leaping to the forefront of the African economic scene and becoming a serious player in the international tourist market.
Though the long awaited African renaissance may have begun, there are formidable mountains still to be crossed before poverty can be wiped off the face of the South African map and there remain vast numbers of people living a ruthless hand to mouth existence where the threat of hunger is never far away. One of the main tools for changing that scenario is the powerful swing toward eco- tourism and the growing international awareness of South Africa's rich wild life heritage.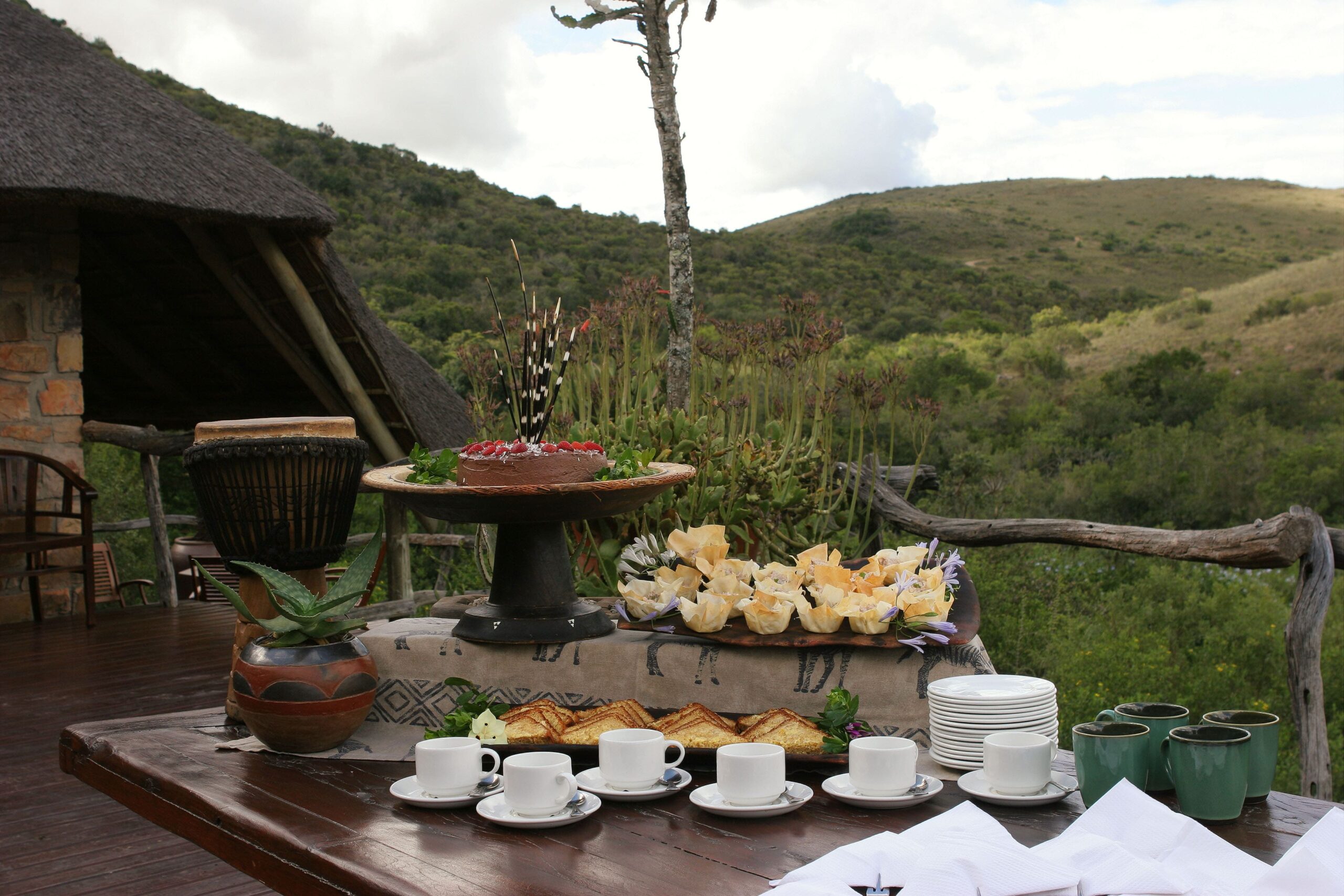 Far away from Cape Town with its renowned Table Mountain and celebrated wine lands, other parts of the Cape region are far less famous and unemployment continues to be high with large numbers of people living in shacks in what the government refers to as informal settlements. For years this was marginal farming land affording poor grazing and unreliable rainfall. Today, forward thinking entrepreneurs are converting vast sections of this region into exclusive game reserves offering safaris and luxury accommodation to international tourists willing to pay top dollar to get a close up look at the big five and other wild animals that are once again wandering the southern tip of Africa.
Lalibela is one such reserve. It has two lodge camps and one luxury tented camp and plays host to both international visitors and wealthier South Africans. As one would expect at that level, the game viewing is superb, the guides knowledgeable and, when you are not being driven around the bush in open topped four by fours, the food excellent.
The catering manager is Linda Keevy-Geldenhuys who has worked at Lalibela for the past nine years. Whilst catering in an exotic and beautiful reserve in the midst of the African bush may sound like a dream job it comes with its own unique array of problems. When you run out of an ingredient you don't just pop down the road to your local supermarket to resupply. Guests at that end of the market can be very demanding and dealing with glucose free, lactose free or vegan diets are all just part of a days work.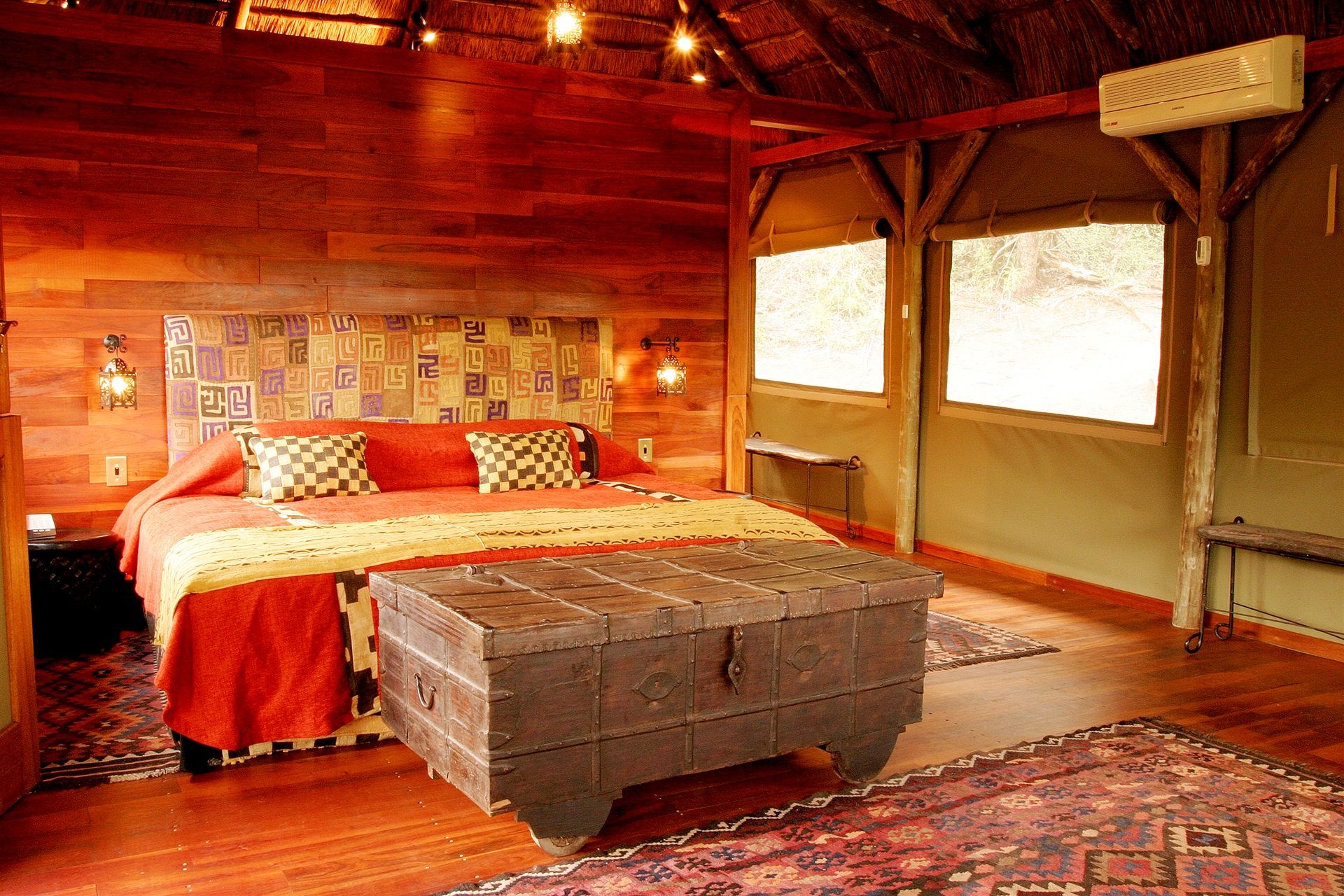 When Linda first joined the staff at Lalibela there was one central kitchen which supplied all three camps. With all the game viewing groups returning to their respective camps at roughly the same time, rushing meals from camp to camp became a logistical nightmare. On one occasion Linda sat in her car for half an hour, food cooling on the back seat, whilst a herd of elephants blocked the road with no regard to Linda's problems. It was this incident that finally instigated the decision to build a kitchen at each camp. That decision made, however, staffing became another problem that needed to be overcome. Keeping good chefs was already proving difficult in such a remote and isolated area.
Linda decided that the best course of action would be to train some of the housekeeping staff to become cooks. It was a decision that did not meet with immediate approval from others in management. They were at first skeptical that these ladies, with limited education and little exposure to the extreme culinary requirements that would be placed upon them, would be able to make the transition into safari cooks. Several years later the issue is no longer under debate. Linda has more than proved her point.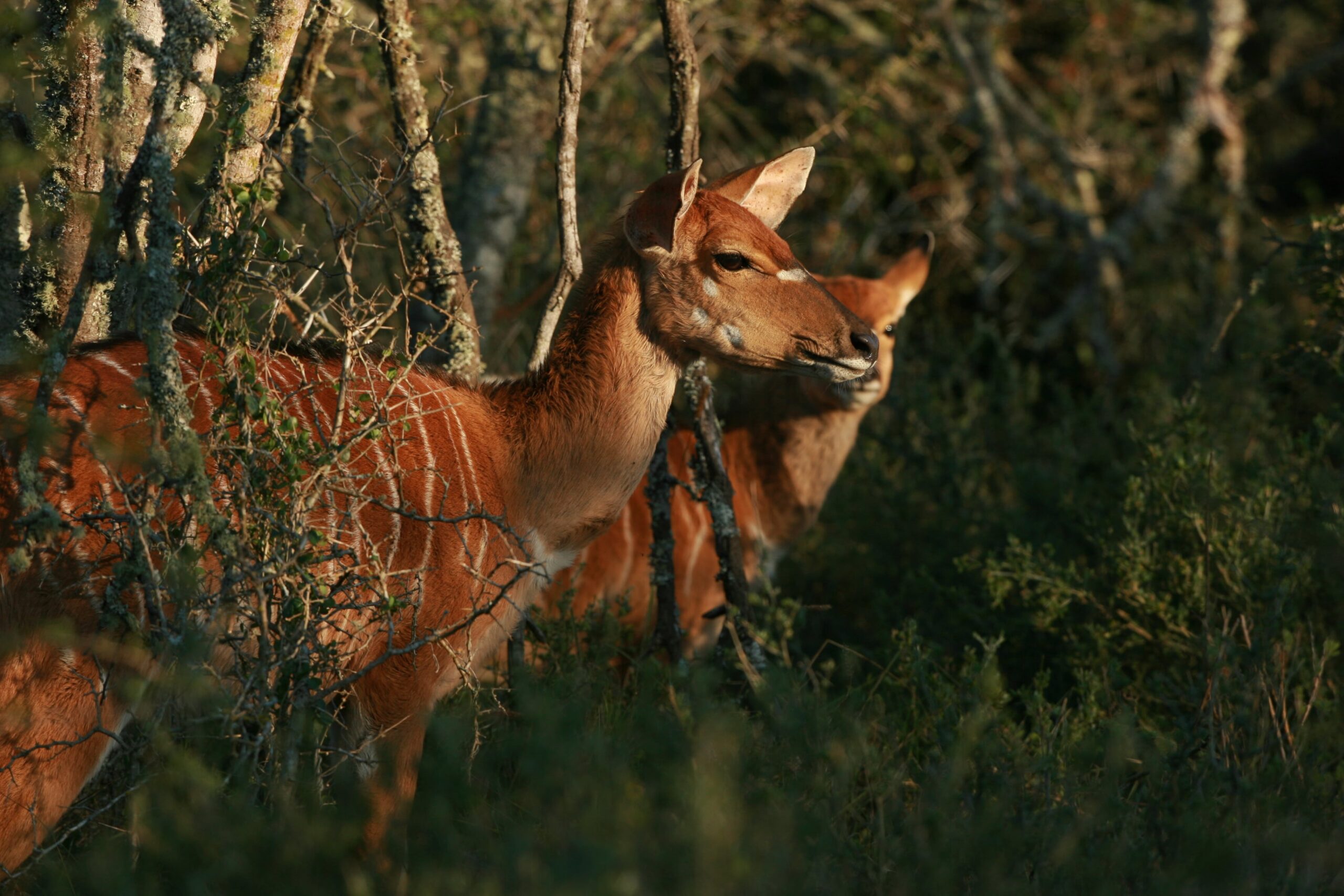 Cynthia Tshula has been cooking at Lalibela for six years now. One of Linda's first trainees, she started off at the reserve washing laundry. She is now a fiercely proud cook with a passion for baking. Mamalinda Duku used to make a living as a seasonal fruit picker before she too started at Lalibela in the house keeping department. She has become an expert at two uniquely South African dishes, the Poitjie, a traditional but complicated African stew and Chakalaka which is a spicy stir fried vegetable dish.
This success story has not been without its hitches. Tears over burned dishes, overcoming a distrust that seems so universal between management and workers and climbing a hugely steep learning curve are just some of the problems these ladies have had to resolve. Under the hot pressure cooker like conditions of their bush camp kitchens, Cynthia and Mamalinda have discovered talents, skills and passion they never dreamed were there or that they would be given the opportunity to develop. Somewhere in the process the three ladies have become friends. The bond that exists between them now provides not only some delightful meals but adds further hope for the future of a country that once teetered on the brink of self destruction.
Writer – Mike Alexander
WADDESDON MANOR – London, England
Baron Ferdinand de Rothschild (1839-1898) was from one of the most affluent banking families of the 19th century. He owned castles and palaces across Europe and was a collector of fine and decorative art. Baron engaged a French Architect for the construction of Waddesdon Manor, a French Renaissance-style chateaux, primarily for the entertainment of his friends and to house his outstanding 19th century collection that, it has been said, "would be the envy of any of today's museums."
The foundation for Waddesdon Manor was laid in 1877 and the Manor was eventually completed in 1891. It was closed from 1990-1994 for extensive interior and exterior restoration, with special care and attention given to the three dimensional garden that was, purported by some documents, created by his sister Alice (1847-1922).
The Manor, which sits on 165 acres of garden and park, was bequeathed to The National Trust in 1975, along with a large endowment for its maintenance.
During World War II, Waddesdon Manor was used as a safe shelter for children under five years old.
Today the Manor, which is 40 miles from London, is open to the public for tours and includes other attractions like shops, restaurants and a playground. It is the third most visited National Trust Property in England.
Photos courtesy of Tourism South East
www.visitsoutheastengland.com
Strawberry Hill Hotel – Jamaica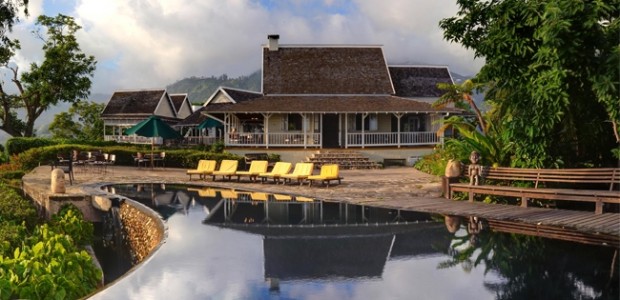 Nestled atop 26 acres on Jamaica's Blue Mountain range, Strawberry Hill Hotel, Spa and Gardens is on many bucket lists, especially since being named one of the 1000 Places to See Before You Die, a New York Times bestselling book of the same name.
On a clear day, one can see up to 40 miles from the property's infinity-edge pool, and at night the city far below becomes a twinkling mirror of the night sky. The property's 12 Georgian-style cottages, spa, exotic gardens and restaurant offerings underwent an extensive refurbishment in October 2011.
Guests are greeted with a complimentary rum cocktail upon arrival to help set the tone for a stay that can be tranquil and relaxing or a mini-adventure with surrounding mountain trails with difficulty levels that range from easy to mildly insane. Nature lovers will get a kick out of the botanical gardens' 350 recorded species of plant life as well as the Cinchona Botanical Gardens, a rare high-elevation botanical garden and the only such institution in the Caribbean.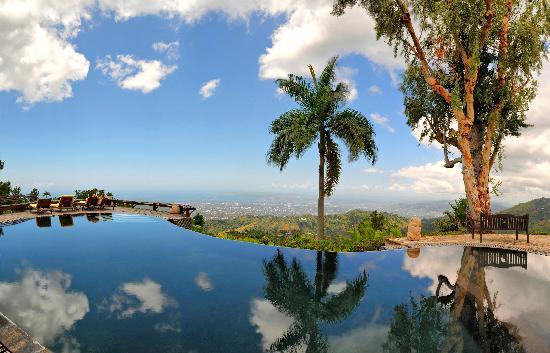 History buffs may want to tour St. Mark's Chapel, a charming and interesting landmark with gravestones that date back to the 1800s; while java lovers may satisfy their curiosity about the bean's harvesting process by touring the island's premier Blue Mountain Coffee Estate.
Whatever the day brings, guests may unwind in Strawberry Hill's full service, stress-relieving spa before taking in the resort's thriving night life. The Strawberry Hill Living Spa, one of the highlights of the property, incorporates organic healing based on the five elements practiced in Ayurvedic philosophies. Guests may indulge in the spa's five treatment rooms, which include a specialized hydrotherapy room and a deck for yoga and other outdoor activities.
The resort's bar, overlooking Kingston's glimmering city lights is the central meeting point and pulse of the property. Guests may cozy up to the bar's fireplace for exotic elixirs and traditional tipples while feasting their eyes on the photographs of famous guests, including Bob Marley, Grace Jones, Mick Jagger, Bruce Springsteen, Lee "Scratch" Perry, U2, Tom Waits, and Keith Richards; fitting since Strawberry Hill is owned by Grammy award winner Chris Blackwell, founder of Island Records.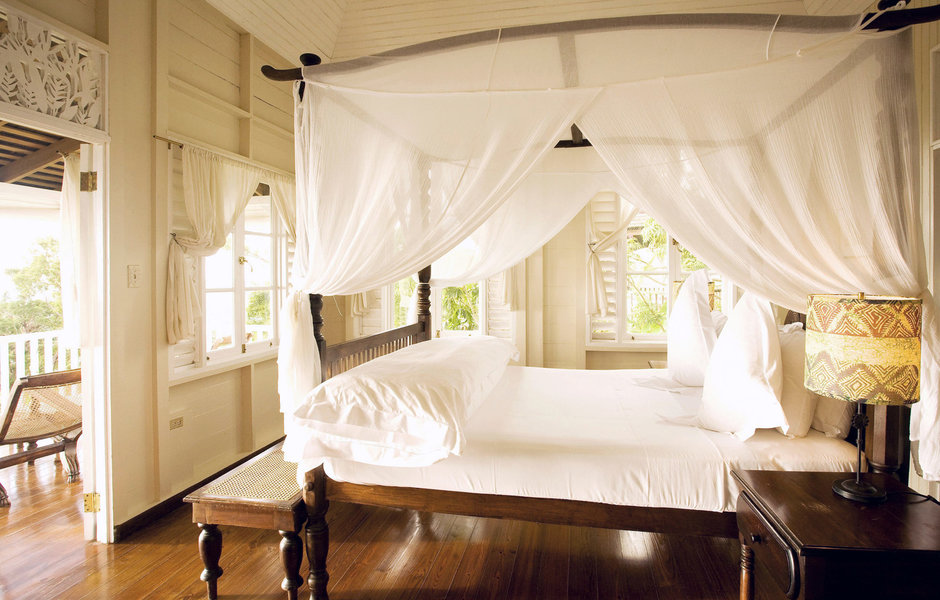 The attentive staff leaves no need unmet, offering a library with access to local and international newspapers as well as board games and wireless Internet access in the main areas.Guests may also embark on an excursion to the picture perfect Lime Cay, a small uninhabited island easily accessible by a combo car and boat ride that is approximately 80 minutes away from Strawberry Hill and well worth the trip. The area is home to white sand beaches and clear seas. Cold drinks and cooked Jamaican food are available on the weekends with abundant picnic tables and shaded areas for relaxation.