Speaking of Jamaica's Bobsled team often elicits peals of laughter, not due to disrespect, but because it is well known that "snow cone" (which is sheared ice served in a cone shaped cup and topped with syrup), is the closest our little island in the sun gets to ice. But contiguous with Jamaica's global brand is the reputation of its nationals going where no man has gone before.
Devon Harris was such a man. He was one of the brave pack who ventured out onto this uncharted course not only for the intrigue and adventure but with a genuine quest for medalling.
The 1988 Winter Olympic Games in Calgary, Alberta, was significant because it saw the emergence of the four-man bobsled team coming out of Jamaica, relatively green, but undaunted nonetheless.
Devon was an army man with a lieutenant ranking. Rigorous training showed the prominent muscular physique which was a necessary attribute for consideration. They crashed. The qualifying race was no mean feat and with little experience going down the track they lost control of the sled. But the shear novelty inspired the movie "Cool Runnings," and Harris went on to compete in two other of the eight races in which Jamaica has competed so far.
But the God consciousness or a deep sense of spirituality elucidated from this continuous evolving of Harris' life, coming from very humble beginnings in Jamaica, has not been lost on him. Harris now 54, has embarked on the road of motivational speaking, a vocation that currently takes him around the world. His elocutions are made easier as they are steeped in his real life experiences growing up in some of the tougher areas in Kingston, Jamaica.
He was 7 months old when his dad sent him to live with his grandmother in St. Elizabeth. He later moved back to Kingston for prep school and lived in Waterhouse, one of the most impoverished areas in Kingston. A family altercation which occurred when he was 7 years old left them no choice but to move to Riverton City, the area of Kingston that has the largest garbage dump on the island. It was a tenement yard where they kotched for just under a year before moving back to Waterhouse for the rest of his childhood years. Even in the poorest areas there is a hierarchy, he noted, clearly in deep reflection, but I lived on the bank of the Sandy Gully which was unquestionably where the poorest of the poor lived.
"There were times when I didn't have shoes and I had a choice of whether to stay home or go to school barefooted. But missing school was out of the question. Quite apart from the fun at playtime my school was very competitive and being the good student I was, it raised my self-esteem. I was then living with my father and step mother. They provided clean clothes, food and shelter but my father knew the importance of education so we were always encouraged to, "go tek up a book." He made it seem that our only option would be to "push handcart," which was not a welcoming vision. The irony however, is that this is what I actually did in bobsled. It seems that I embraced both."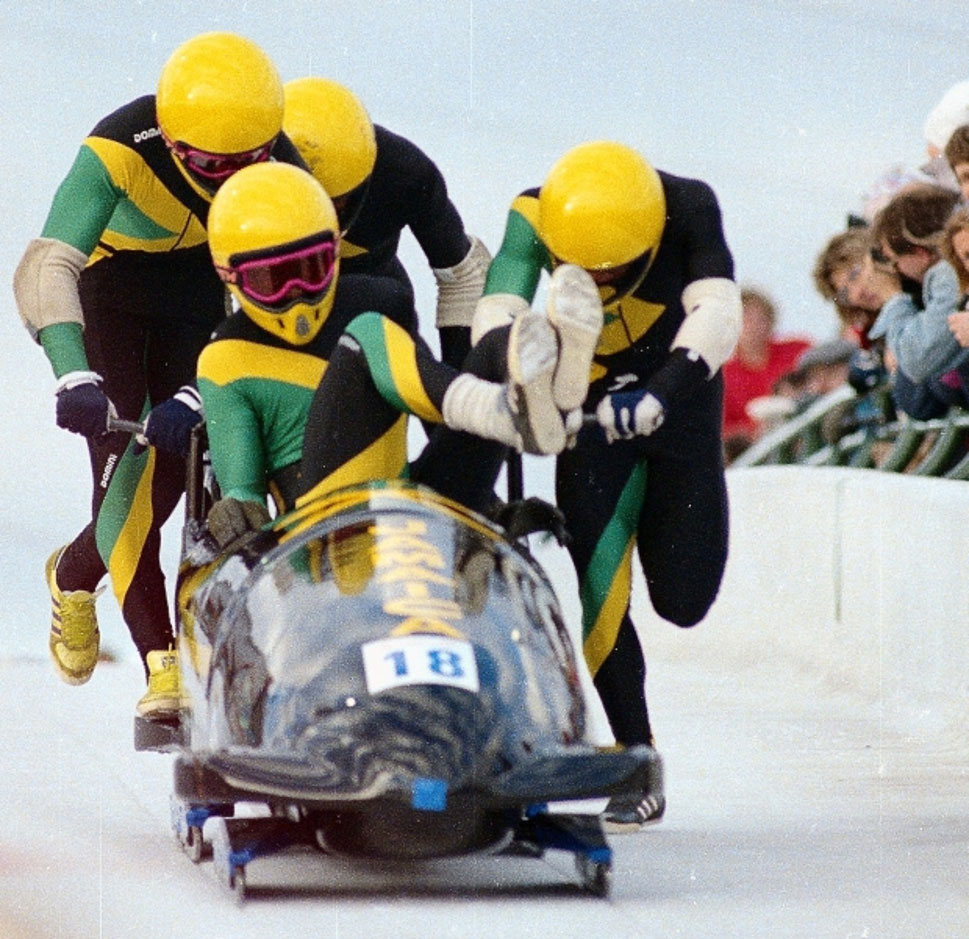 By the time he turned 13, he had already been "awakened" to his peers expressed preference of embracing the sufferer's mentality and realized that where he saw hope they saw despair. They didn't think that success was even remotely possible.
It was his grandmother, he recalled, that ignited that fire of possibility in him and brought about a stoicism that made him adamant about walking to the beat of his own drum. She was an amazing story teller and it was from her that he learnt stories about soldiers who could perform some amazing feat under dire circumstances. That's what inspired him as a youth to do things that people thought was almost impossible.
At 19 when he was in 6th form at Ardenne High school, he was the only youngster in his neighborhood in school. He stayed late either to catch up or stay ahead with school work and was often heading home at night. The edgy banter and jeering by boys of lesser ambition in his community, lollygagging on the street corner, was all in an effort, he knew, to belittle, frustrate and derail him.
But Devon would not allow himself to absorb what he had come to recognize as outside noise. He simply continued on his path and upon completing high school he joined the army.
He said, "That was a game changer for me. I know that a major problem with young men even today, is that they are not willing to step away from the crowd. But when one is living in an oppressive environment where not many people are striving, there is also a fear factor as stepping out could lead to becoming a target. As difficult as it was, and still is, young men have to be willing to endure that, if they intend to succeed. The only other option was to stay with everybody and be miserable."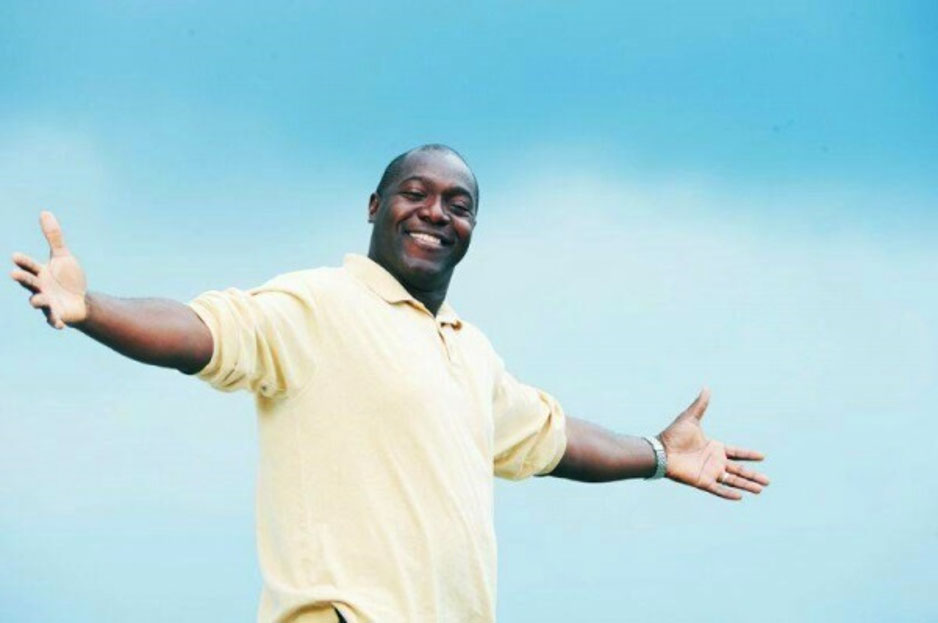 M: Were these fatherless boys?
D: Not all. But if the father is of the same mindset, what is he going to teach them?
M: Are you aware of who you are? Are you in touch with yourself on a spiritual level?
D: I think so. I think I am becoming more aware. My motto has always been, keep on pushing. When I was younger I considered myself more religious. Part of this awareness, I believe, comes with my desire to grow. I went to church regularly but after high school I stepped up the pace to where I was going sometimes twice a day.
M: So where do you see the difference between religion and spirituality?
D: The big difference between religion and spiritualty is that religion requires one to stick to a strict set of rules and worship a specific God. Some of these rules vary from one religion to the next but must be adhered to. Spirituality recognizes that there is a superior being that you are connected to and in fact one with, and one tends to work to get in closer alignment with that spiritual being that is in you and that is you.
M: Was there ever an experience in your life that served to propel this spiritual awareness or growth or is it by grace that life has been on a continuous trajectory of positive growth for you?
D: It might have been my granny's guidance but I had my ambitions in place from early. I wanted to be an Olympian (athlete) and I wanted to enlist in the army as an officer. It was difficult to do but I did it.
One experience stands out in my mind. I remember passing the officer's club when I was 12 years old, and I was thinking, look at all the rich people sitting in there. After enlisting I was sitting in the officer's club, and I looked outside and in my mind I saw my 12 year old self vividly, walking by, looking at me going, look at the rich people in there.
There would have been no hope of me being on the bobsled team if I was not in the army.
But I wanted to point out that my difficulty was not only breaking away from the group in the community where I grew up, there was also difficulty fitting into the new environment, because there is a part of you that feels like you don't belong.
After Sandhurt, (which is the Royal Military Academy and the British equivalent to East Point) and my officer training, I had to go through my own psychological process of convincing myself that I did belong. I had to convince myself that I did everything they did and earned it the way they did as well. So when I brought my family to a family day in Moneague and they ended up in the enlisted men's canteen, I had to make it clear to them that I was an officer.
But everything in life is energy and you feel that in the officer's mess. Some people may think it's snotty but it's not really, it's just not the ghetto, its upper middle class and the same like all other areas of life.
M: You now have serious recognition. You have been featured in Sports Illustrated three times. How has the recognition benefited you?
D: It's not how it has benefited me it's what I have done with it. I created opportunities with it. Nobody else is doing what I am doing. It has given me a platform that just being a captain in the JDF couldn't have done. So I've used it to create a vocation and to make a difference. It's a calling. When I was living in Waterhouse I never imagined I would be doing this, but as you answer, the call moves you to other things. With that success I believe I have a responsibility to inspire people and to help people. Hence my foundation and working toward my visual, digital academy, to provide some practical training and education for kids to improve themselves and the country.
M: What was your most outstanding experience in bobsledding?
D: Imagine stepping into a stadium with 50,000 people screaming and more cameras than you can count. That in itself is a high point. In that moment you are living your dream.
In 1988 the world was still in the height of the cold war and my training tells me that everybody behind the iron curtain was evil. But here I was in the Olympic village and I am in the game arcade killing Pac man and one guy from Poland and another from East Germany are on either side of me and it dawned on me in that moment that the only real difference between us is ideology. I realized that we all shared the same hopes and aspirations, that we all suffer from similar human frailties and we all want to compete and do the best for our country. It was like utopia, it's like you were closed off from the rest of the world and you get a chance to enjoy and celebrate humanity and oneness.
The lowest part of the Olympics for me was the moment the flame was extinguished. It left with a swoosh! – an awful sound that said utopia was over. That flame was a symbol of our oneness that reality doesn't seem to hold.
M: You are now an international motivational keynote speaker and philanthropist, what were the challenges to becoming a speaker?
D: Speaking came naturally to me. I was called on frequently in the army to make presentations because they thought I had a good speaking voice. Firstly, it is believing that you can and secondly is preparing. When I was at Sandhurst they taught us the "Seven Ps," Prior Preparation and Planning Prevents Piss Poor Performance, so I prepared. But the key is to be authentic. The real person must come across.
M: Do you always use your life experiences or do you come from a different angle?
D: Yes, I use my life experiences because people want to know who you are. It's what sets apart the great ones from the good ones because anybody can read a book and regurgitate what they've read but our different experiences carry some similar truths. It's being able to convey those earlier challenges. It's using your life experiences to eliminate negative emotions in others.
M: What is happening with our youth now that's causing this waywardness in their thoughts, in their actions and the lack of aspirations to become the best that they can be?
D: Each of us has a responsibility to pull ourselves up from the circumstances that we find ourselves in. It's the way that I interpreted the Bible verse, "Many are called but few are chosen." I used to think it meant few will be chosen to go to heaven, but what I have come to realize is that all of us get this little call inside our little heart.
M: How long did it take you to prepare for competition?
D: We weren't prepared for competition, so much so that after 1982 they came out with a set of rules which they called "The Jamaica Rules." We had a coach only in name but he wasn't with us in Jamaica. We are now required to do 5 races on different tracks in the 2 years leading up to the Olympics.
M: How much does it take to comfortably prepare for competition?
D: The team needs sponsorship of US$1 million a year to cover all costs for preparation and competition.
In 1988 the Jamaican Bobsled team crashed in competition, allegedly due to driver's error. They have continued to train and improve.
MARLENE DALEY
FOUNDER & PRODUCER