ICE Tracing License Plates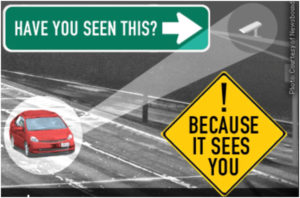 The Immigration and Customs Enforcement (ICE) agency has gained access to a nationwide license plate recognition database from Vigilant Solutions. The system gives ICE access to billions of license plate records and new powers of real-time location tracking for vehicles owned by individuals ICE is seeking to apprehend.
The result is a massive vehicle-tracking network generating as many as 100 million sightings per month, each tagged with a date, time, and GPS coordinates of the sighting. ICE agents would be able to query that database in two ways. A historical search would turn up every place a given license plate has been spotted in the last five years, a detailed record of the target's movements. That data could be used to find a given subject's residence or even identify associates if a given car is regularly spotted in a specific parking lot.
ICE agents can also receive instantaneous email alerts whenever a new record of a particular plate is found — a system known internally as a "hot list." (The same alerts can also be funneled to the Vigilant'siOS app.) This is particularly troubling given ICE's recent move to expand deportations beyond criminal offenders, fueling concerns of politically motivated enforcement. In California, state officials have braced for rumored deportation sweeps targeted at sanctuary cities. In New York, community leaders say they've been specifically targeted for deportation as a result of their activism. With automated license plate recognition, that targeting would only grow more powerful.
Asylum Backlog – Recent Filings Interviewed FIRST Ahead of Older Filings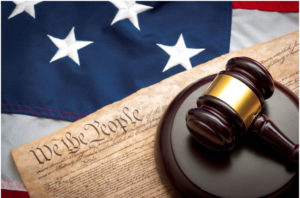 American flag, US constitution and a judge's gavel symbolizing the American justice system or the Judicial Branch of government ( Judiciary )
U.S. Citizenship and Immigration Services (USCIS) announced today that the agency will schedule asylum interviews for recent applications ahead of older filings, in an attempt to stem the growth of the agency's asylum backlog. Returning to a "last in, first out" interview schedule will allow USCIS to identify frivolous, fraudulent or otherwise non-meritorious asylum claims earlier and place those individuals into removal proceedings.
In some cases, immigrants file asylum applications, knowing it is a 3-6 year backlog for an interview and in the meanwhile, they get employment authorization. "Delays in the timely processing of asylum applications are detrimental to legitimate asylum seekers," said USCIS Director L. Francis Cissna. "Lingering backlogs can be exploited and used to undermine national security and the integrity of the asylum system."
The agency currently faces a crisis-level backlog of 311,000 pending asylum cases as of Jan. 21, 2018, making the asylum system increasingly vulnerable to fraud and abuse. This backlog has grown by more than 1750 percent over the last five years, and the rate of new asylum applications has more than tripled.
To address this problem, USCIS will follow these priorities when scheduling affirmative asylum interviews.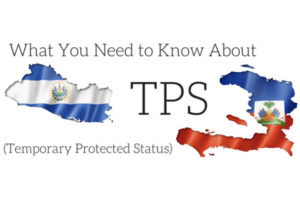 TPS or temporary protected status is granted to individuals in the U.S. who cannot return to their country due to natural disasters (such as earthquake or hurricane), ongoing armed conflict (such as civil war) or extraordinary and temporary conditions. The Trump administration has announced the ending of TPS for the following countries:
Haiti – TPS ends July 22, 2019
El Salvador – TPS ends Sept. 9, 2019
Nicaragua – TPS ends Jan. 5, 2019
Honduras – TPS ends July 5, 2018
---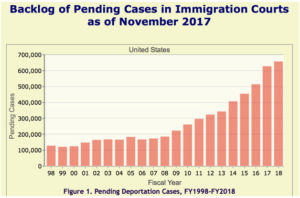 In October-November 2017, the Immigration Court number of pending cases climbed by an additional 30,000. According to the latest case-by-case court records, the backlog at the end of November 2017 had reached 658,728, up from 629,051 at the end of September 2017.
UPDATE ON DACA
Nearly 700,000 young immigrants who have no legal status in the U.S. benefit from #DACA and have valid employment cards so they can work and attend college. All DACA recipients have no criminal history and are law abiding young immigrants who entered the U.S. under the age of 15.
The Trump administration announced on September 5, 2017 the orderly phase out of the program known as Deferred Action for Childhood Arrivals (DACA) that was initiated by President Obama. To date, no legislation has been introduced or passed extending DACA. However, as of January 13, 2018, due to a two U.S. District Court decision, U.S. Citizenship & Immigration Services (USCIS) has resumed accepting requests to renew a grant of deferred action under #DACA.
The #DACA battle will have to be decided by the U.S. Supreme Court – whether #Trump has authority to end #Obama executive order granting #DACA.
Gail Seeram has been chosen best lawyer 2016 and 2017 by Orlando Magazine.
Gail Seeram
1-877-GAIL-LAW / 407-292-7730.
Email Gail@GailLaw.com